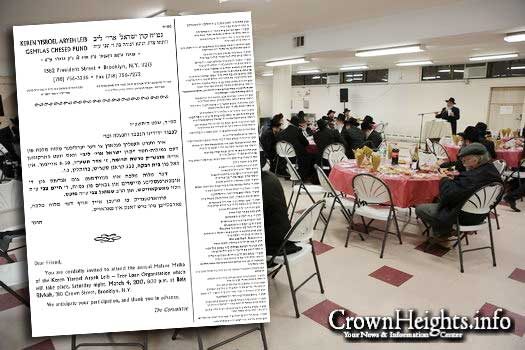 The committee of Keren Yisroel Aryeh Leib, a G'mach that benefits many Crown Heights families, is inviting the community to participate in its annual Melave Malka, which will take place this Motzei Shabbos Parashas Trumah at Beis Rivkah-Crown St.
The dinner will begin at 8:30pm. It will be held in the hall of Beis Rivkah, 310 Crown Street [between New York and Nostrand Avenues] on March 4th, 7th of Adar, Motzai Shabbos Kodesh Parashas Trumah.
The Melave Malka is dedicated in memory of the unforgettable Gaboim of the Gmach: Rabbi Chaim Tzvi Moskowitz, OBM, and Rabbi Shmuel Tzvi Fox, OBM.
Keren Yisroel Aryeh Leib was founded over 40 years ago and is named after the Rebbes brother O"H. The G'mach services many individuals and Mosdos of our community.