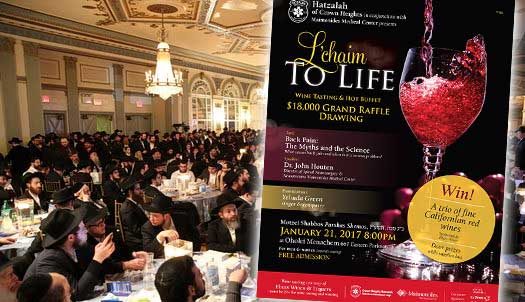 Motzai Shabbos: Melava Malka and $18,000 Raffle!
This Motzai Shabbos, men and women are invited to join Hatzalah of Crown Heights for a Melava Malka, featuring a hot buffet and wine tasting, alongside a health symposium and entertainment by Yehuda Green, a noted singer and composer. Also, a trio of fine California red wines will be raffled off among those in attendance.
The Melava Malkah will take place this Motzai Shabbos, January 21, 2017, at 8:00pm in the Oholei Torah Ballroom, 667 Eastern Parkway. The event is for both women and men, with separate seating and admission is free.
The event will feature a talk on the topic of "Back Pain: The Myths and the Science", and will delve into the causes of back pain and when it is a serious problem. The talk will be presented by Dr. John Houten, the Director of Spinal Neurosurgery and Neurotrauma at Maimonides Medical Center.
The event will conclude with a grand raffle on $18,000, as well as a a trio of fine California red wines – sponsored by Eber's Wine & Liquor.
You can still purchase tickets for the $18,000 raffle ahead of the event by clicking here, or in person at the event itself.