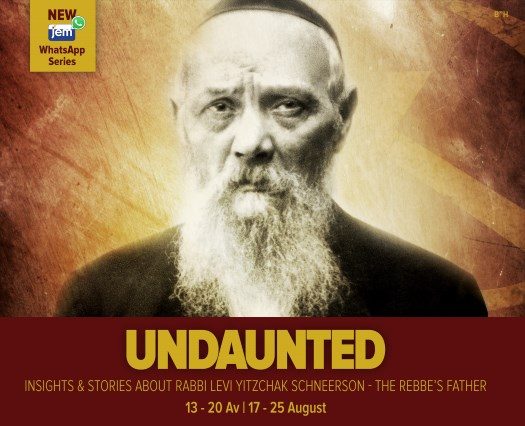 New from JEM: Undaunted
Next Wednesday, 20 Av, marks 72 years since the passing of the Rebbe's father, Rabbi Levi Yitzchak Schneerson, OBM. This week, leading up to his Yahrtzeit, JEM is pleased to present a fascinating WhatsApp series on Rabbi Levi Yitzchak's profound impact on the Rebbe's teachings, and the generations that follow.
Become one of over 20,000 subscribers who receive a daily JEM WhatsApp clip of the Rebbe in five different languages. The clips are designed to inspire and uplift, providing strength to continue our efforts to bring Moshiach, may he arrive speedily in our days.
Subscribe now to JEM's WhatsApp in two easy steps:
1) Save the number +17187746000 to your phone's contacts
2) Send a WhatsApp message with the word "subscribe"
*No need to resubscribe if you're already receiving JEM's WhatsApp videos
To dedicate a WhatsApp video viewed by over 20,000 people, please visit JEMedia.org/WhatsApp.