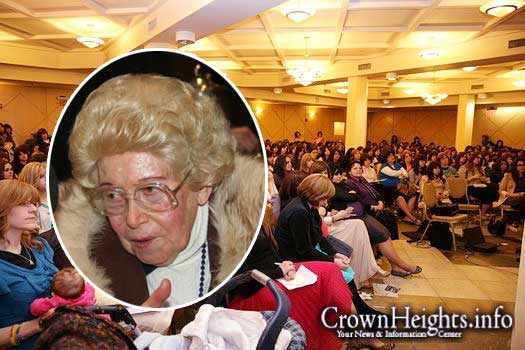 "How we can parent our own children in this post Gimmel Tammuz world?" is the topic of the Women's Circle annual summer farbrengen, which will be presented by legendary Shlucha Mrs. Shula Kazan on Thursday evening.
She's honest. She's blunt. She's experienced. She's wonderful. And she wants to meet you!
Join The Beis Medrash Women's Circle on Thursday night for their annual summer Farbrengen featuring Mrs. Shula Kazen and her daughter Bluma Weinberg.
Come hear Mrs. Kazen's story from a childhood in Russia where her mother, Maryasha Shagalov-Garelik raised her to be a frum yid to a lifetime of Shlichus in America. Mrs. Kazen and her husband, Rabbi Zalman, moved to Cleveland in 1953 transplanting that same unwavering belief in Hashem to American shores. Together, while raising their own children, they built up the Cleveland Jewish community for more than five decades.
This Thursday night, Mrs. Kazen will share some invaluable advice on how we can parent our own children in this post Gimmel Tammuz galus.
The Women's Circle Annual Summer Farbrengen will take place at Chanel Lipskier's house, 1650 Carroll Street at 8 pm on Thursday night, Rosh Chodesh Tammuz.
This hakhel event is in loving memory of Miriam Yudis bas Reuven whose yahrtzeit is on 10 Tammuz.
Free of charge.