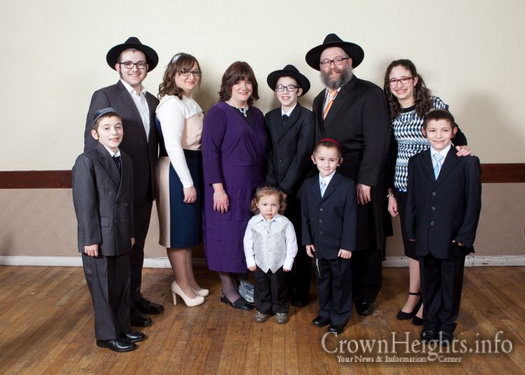 A matching crowd-funding campaign has been launched for the sake of the family of Rabbi Moshe Muller, OBM, Shliach to Ilford, UK, who passed away suddenly and tragically last week and left behind a wife and eight children without a clear source of income.
The last of the aunts and uncles have gone home. Shiva is over. But for Brocha Muller and her 8 orphans, a new reality is just beginning.
It was just a week ago that they received the news that would change their lives forever. Rabbi Moshe Muller, their devoted husband and father, was dead at the age of 43.
As Brocha tries valiantly to be there for her children, questions flash through her mind: Who will drive carpool today? Who will walk the children to the chuppah? How will I remember all the bills that Moshe used to take care of? Will little Avraham Yisrael even remember his father?
Meanwhile, the children – between the ages of 19 and 3 – have their own questions: Will we still be able to take drum lessons we know Tatty worked so hard to provide? Do I have a future, if I don't have a father? Who will I be able to talk to that can understand me like Tatty did?
From the moment the tragedy struck, family and friends – and even strangers – have rallied around the Mullers, beloved shluchim in Ilford, a large suburb northeast of London. Even before the funeral, two separate fundraising campaigns have begun, one in the US and one in England. To date, they raised $85,000 and £35,000 respectively.
Yet, for a family of 9 that just lost its sole breadwinner, more needs to be done.
A group of fellow shluchum have arranged a matching campaign to establish a trust that will ensure that the Muller family will be able to pay for tuition, bar mitzvahs and weddings, in addition to daily expenses.
On Wednesday, May 18, every donation will be doubled, with the hope of bringing in an additional $300,000 much needed funds.
Please answer the Muller children's call and give generously. Let's make sure that the family of Rabbi Moshe Muller – who was there for everyone at any time – is provided for.
This campaign is being endorsed by:
Harav Rabbi Boruch Hertz
Rabbi Meir Shimon Moskowitz
Rabbi Dovie Shapiro
Click here to donate: https://matchathon.com/matchathon?campaign_id=227.