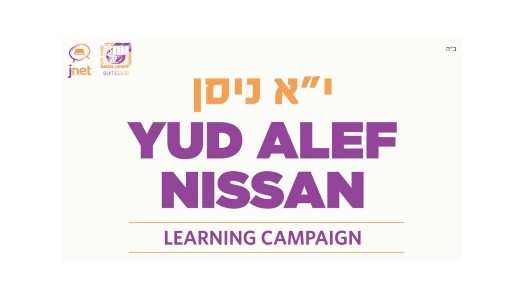 The 11th of Nissan (this year corresponding to Tuesday, April 19th) marks the birthday of the Lubavitcher Rebbe. Honoring this occasion, JNet will be running a study campaign, encouraging all Jews to unite through studying a sicha about the superior quality of Pesach that is highlighted when Pesach occurs on Shabbos (such as during this year).
Not only will this talk highlight the greatness of Pesach, it will also give us a glimpse into one of the amazing life lessons the Rebbe imparted to us, providing us with a new perspective on G-d's workings.
Here's how to join:
Visit jnet.org/elevento download the material.
Learn the sicha (on your own or, better yet, with a friend).
Submit your name online in order to be included in the duch and prize drawing.
Share your answers to the questions.
The winner of the raffle will be announced on our website on Wednesday, 12 Nissan (April 20th).
May the merit of our learning strengthen our commitment and connection to the Rebbe and his directives and bring Moshiach speedily.
Jews of all ages and backgrounds are looking for more Yiddishkeit. In just half an hour a week, you can change their lives! Volunteer today to study the subject of your choice over the phone or online with a JNet chavrusa and see how you can truly make a difference! Visit JNet.org or call 718-467-4400 to sign up.
JNet is a division of Merkos L'Inyonei Chinuch and was established with a generous grant from the Rohr Foundation.