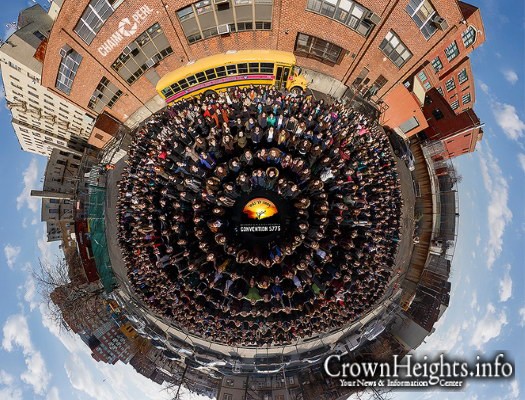 The annual Inter-school Lubavitch Girls' Convention, the highlight of every high school student's year, is right around the corner. The convention this year will be held over the Shabbos of 25 Adar. It will run from Thursday 23 Adar I, March 3rd, through Sunday 26 Adar I, March 6th.
With preparation long underway, and many doses of caffeinated evenings, the committee is bustling with activity around the clock in order to create a program inculcated with fun permeated with inspiration and unity.
Last year, 800 girls attended this grand convention. But this year is different. This year is a Hakhel year. Convention will be larger, grander and have more power!
Hakhel was the ultimate gathering of the Yidden and was the ideal opportunity to unite and inspire the people. The action of getting together in itself was a part of the inspiration and growth. The goals of convention are the same: to inspire and unite the girls so that they benefit from the convention and can implement what they have learned enabling them to share, give, and inspire others.
Building on this theme, the passuk "איש את רעהו יעזורו" encapsulates what convention aims to imbue in the girls. The power of togetherness and the impact it has is powerfully understood when hundreds of girls gather together. What can explain the theme better than actually experiencing it?!
The event offers an opportunity for growth, with farbrengens and sessions with world- renowned and esteemed rabbis and lecturers such as R' Shais Taub, R' Simon Jacobson and more –plus, keynote speaker R' Yitzchak Shochat. It's the time to reunite with friends whom you haven't seen in a while.
Sign up today at lubavitchgirlsconvention.com. Registration will be closing on Monday, 13 Adar I, February 22.
For sponsor opportunities please call 917-724-9940, email hsconvention@gmail.com, or you may sponsor directly through the site at lubavitchgirlsconvention.com.