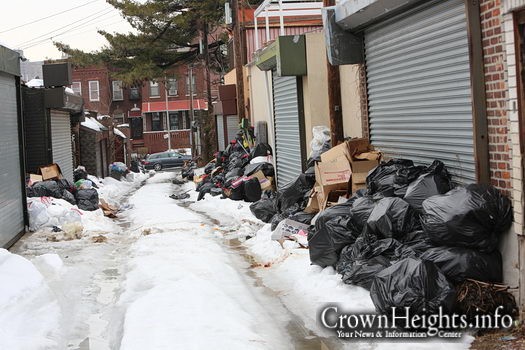 The Crown Heights Jewish Community Council has issued an advisory to members of the community that the NYC Dept. of Sanitation has suspended the collection of garbage while they focus on clearing the snow. Additionally, when resumed, garbage collection will not take place in alleyways until the snow melts, and all garbage must be placed on the sidewalk at the proper times.
Rabbi Eli Cohen of the CHJCC released the following statement:
Garbage and recycling pickups have been suspended while the Sanitation Department clears the snow. Once that work is complete, the City will announce that collections will resume. However, Garbage trucks will likely still not be able to get into the alleys. We have confirmed with the Sanitation garage that, until the snow is gone, all collections will be made at the curbside in front of the houses.
Please keep your neighborhood clean and rat-free. Do not allow garbage to pile up behind your home.