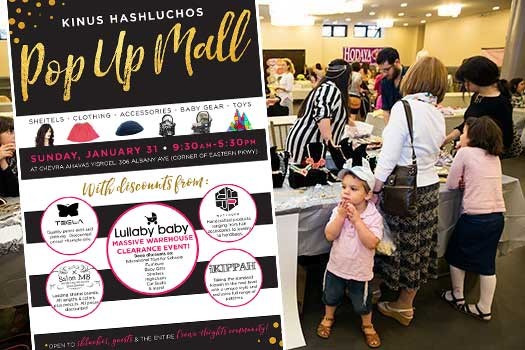 Due to popular demand after last year's success, the Chof Beis Shvat Pop Up Mall is returning to Crown Heights on January 31. In honor of the visiting shluchos, Lullaby Baby, the Park Slope boutique store, is coordinating the event and will be joined by several local vendors including Teela, Salon MB, Ruti Horn and iKippah.
There will be huge discounts on many items for both Shluchos and the Crown Heights community.
"A lot of Crown Heights residents get frustrated that so many sales are exclusive to shluchos," said Kayla Kramer, Lullaby Baby founder. "We wanted to create an event in honor of the shluchos, but with huge discounts for everyone."
The Pop Up Mall will be the one-stop destination for amazing deals on educational toys, car seats, strollers, yarmulkas, feeding items, furniture, women's accessories, jewelry, clothing, wigs and more.
The sale will take place at Chevra Ahavas Yisroel, 306 Albany Ave, on Sunday, January 31 from 9:30 AM to 5:00 PM.
About the Vendors:
Professionally-trained stylist, Mushky Baumgarten of SalonMB Hair and Wigs, will showcase wigs from leading brands including Sary and Miri. Wigs in all lengths and colors, along with a selection of precuts, will be available. All products will be at discounted prices.
Ruti Horn is a New York based accessory designer, with handcrafted products including hair accessories, jewelry and handbags. Her hair accessories have been featured in Henri Bendel and various Hollywood award shows.
iKippah, a leading religious fashion brand has taken the standard kippah to the next level with their unique style and exclusive range of patterns. iKippahs have now gone global becoming a must-have accessory for boys and men alike.
Teela features trendy, fun, and fashion forward modest clothing for girls. Teela is known for their popular pencil skirts, beloved by both moms and daughters. Praised for unprecedented quality — a skirt that doesn't pill or lose its shape — and offered in over 20 colors, Teela has become a household name around the world.
Lullaby Baby, cradled in the hip neighborhood of Park Slope, is the hottest destination for better baby shopping. Their wide array of the most popular nursery furniture sets, baby swings, and newborn essentials, coupled with outstanding customer service, attracts Brooklyn's smartest shoppers.