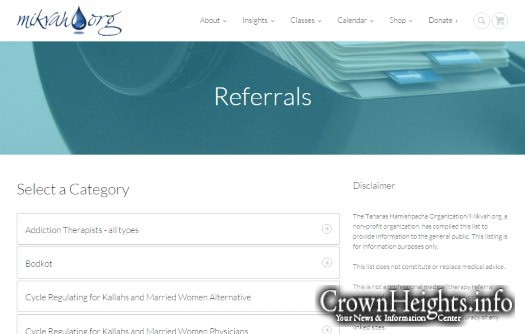 In the life of a Jewish woman, situations will occasionally arise in which help is needed from professionals in the realm of Taharas Hamishpacha. For many, assistance with mental health issues for themselves or a loved one may be needed, and trying to figure out where to turn to for help can be bewildering and frightening.
We do not always feel comfortable speaking to someone, to ask for assistance. We each want to retain our privacy, yet we realize some things are beyond the scope of dealing with on our own.
"As a Kallah teacher, I realize the need for every woman to be able to find the help she seeks for her own, or her family's needs," says Mrs. Sara Morozow, Consultant, Taharas Hamishpacha International/Mikvah.org. "No one should have to worry even a moment longer than necessary."
In response to the need for these resources to be readily available to those in need, Taharas Hamishpacha International/Mikvah.org has announced the posting of a Referral listing of professionals who can assist women, couples and families with the many issues that arise in the home and in family life, as well as in the practice of Taharas Hamishpacha.
This list was compiled with the expert assistance of many professionals, and the organization plans to allow it to grow as more recommendations come their way.
"We pray that with Hashem's help and guidance, this will prove a productive resource to the worldwide Torah observant community," says Mrs. Chaya M. Klein, project coordinator for Mikvah.org. "We thank all those who have so generously contributed and look forward to hearing from our own global community."
Click here to view the referral listing at Mikvah.org.