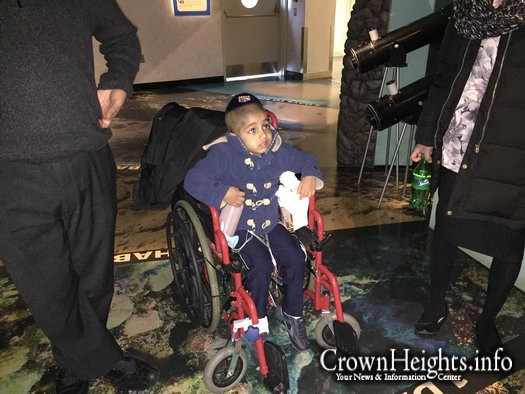 Raphael Shmuel is a sweet 5-year-old little boy from Beitar Illit, Israel. Three months ago he was a healthy child, looking forward to attending the first grade. He suddenly started to not feel well, and he was diagnosed at Hadassah Hospital as having a tumor of the brain stem.
The surgery and radiation treatments he has received have caused him to become unable to eat normally, and he is being fed through a feeding tube.The tumor also has caused vision problems. He continually asks his mother why he can't eat.
Upon expert medical advice, he has been brought to America, and is being treated at the ProCure Hospital in Somerset, New Jersey, with the most advanced and specialized types of treatment, that are not available in Israel. His parents, Eliyahu and Orit, are affiliated with Chabad.  They have come with him to America, and they have left two other small children behind. His father had to close his dry cleaning store in order to take care of his son. They currently have no source of income.
A campaign has been launched to raise $100,000 for the next 12 months for this little boy and his family. This campaign is being spearheaded by the Ahavas Chesed of Crown Heights. While Kupat Cholim health insurance from Israel is paying $350,000 for the American hospital, none of the other medical expenses are paid for. For example, they have to pay for the feeding tubes and the medications he has to take every day. The family had to take out loans to travel to America. The campaign is seeking to cover a year of living expenses for the family, including rent of an apartment near the hospital, food, transportation, babysitting, winter clothing, and other sundries. In addition, the family expenses in Israel are still ongoing, including mortgage payments and living expenses for the other two children.
Please help assist this little boy in paying for his lifesaving treatment, by visiting gofundme.com/ubcuser8.
The boy's full Hebrew name is Raphael Shmuel ben Orit.