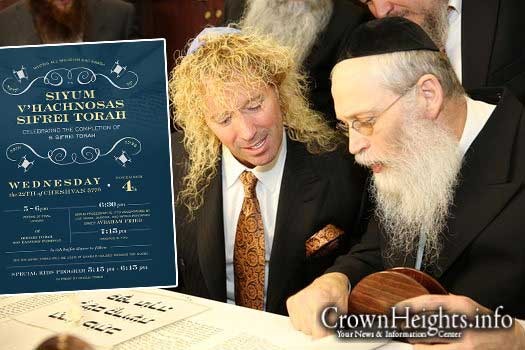 All Anash and Shluchim are invited to attend a grand celebration in Crown Heights to mark the completion of six new Torahs sponsored by Chilean philanthropist Leonardo Farkas.
All Anash and Shluchim are invited to attend what promises to be a most memorable Siyum V'hachnosas Sifrei Torah on Wednesday, 22 Cheshvan (November 4).
Six Sifrei Torah, generously sponsored by Mr. Leonardo Farkas of Chile, will be completed and designated for use at six Chabad Houses around the globe.
The celebration will commence at 5:00pm at Oholei Torah with the completion of the final letters of the Sifrei Torah. A special children's program featuring singer Chaim Fogelman and other entertainment will begin at 5:15pm.
At 6:30pm, the Sifrei Torah will be led along Eastern Parkway toward 770, where the traditional Hakofos will be held with the participation of singer Avraham Fried.
Refreshments will be served throughout the event, along with nosh pekelach for the children.