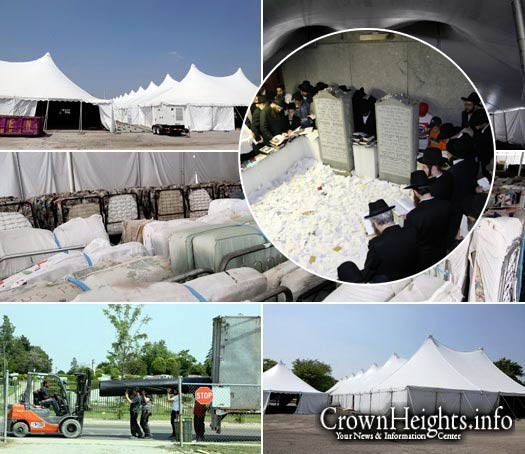 PSA: Shabbos Gimmel Tammuz at the Ohel
With Gimmel Tammuz falling out this year on Shabbos, organizers are hard at work preparing for the tens of thousands expected to visit the Ohel. Registration for those wishing to spend Shabbos at the Ohel closes Wednesday. Inside: Maps, times and information for visitors.
This year Gimmel Tammuz marks 21 years to the Yortzeit of the Rebbe.
Those wishing to visit the Ohel the lines will begin on Thursday after Shkiah [sundown] up until Shabbos, then resum on Motzai Shabbos through Sunday evening.
The lines begin forming at the gated entrance to the cemetery on Francis Lewis Boulevard where tents will be set up along with fan, cold water and video screens showing Farbrenges and encounters with the Rebbe.
For Shabbos a large tent for sleeping will be set up on Springfield Boulevard, where there will also be parking for private vehicles as well as those wishing to bring their own RV's.
Bochurim will stay in the Elmont Jewish Center nearby.
Registration will close on Wednesday. Click Here to register.
See details below.
Meals and Farbrengens
All Shabbos meals and Farbrengens will be taking place in Delphin H. Greene Playground on 121st Avenue just down the road from the Ohel.
Address: 121st Avenue and 236th Street Queens, NY 11413
Married Men Sleeping Arrangement
Married men who wish to stay over Shabbos will be sleeping in a tent on Springfield Boulevard, which is in front of the main entrance of the cemetery.
RV Parking will only be permitted on Springfield Boulevard and each RV must be registered with the organizers in advance.
Address: 121-83 Springfield Boulevard, Queens, NY 11413
Bochurim Sleeping Arrangements
Bochurim who wish to stay over Shabbos will be sleeping in the Elmont Jewish Center – a 30 minute walk from the Ohel.
Address: 500 Elmont Road, Elmont, NY 11003
Registration:
In order to ensure that enough beds are ordered and food prepared, as well as to ensure all the guests safety, organizers have set up registration for those wishing to stay in a tent or RV. This is being coordinated along with the police and local residents.
Unregistered RV's will be towed away.
Registration closes June 16th at midnight. Click Here to register.