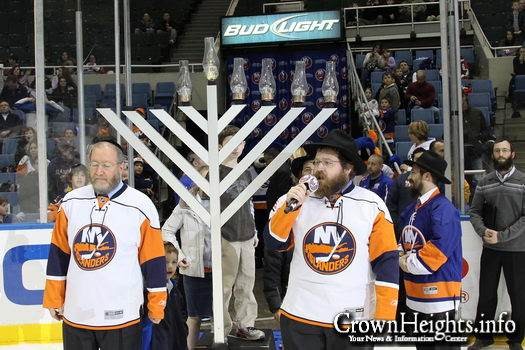 Rabbi Yossi Lieberman of Chabad of West Hempstead speaks before lighting the Menorah at the Nassau Coliseum during an Islanders hockey game.
Chabad of West Hempstead, under the directorship of Rabbi Yossi and Chaya R. Lieberman, is now running an exciting 24-hour campaign where every dollar contributed is worth $4.
Chabad of West Hempstead means many things to many people.
To some it's a Hebrew school and a youth center. To others it's an adult education institute, a synagogue, and a community center. To others still it's the Friendship Circle for children with special needs, a social service center and a center for Jewish students at neighboring universities. Either you or someone you know has been touched by Chabad of West Hempstead.
Indeed, there is little within the realm of outreach and education that is outside of the sphere of focus of this multidimensional organization. Still, Chabad does not celebrate the achievement of an objective as a plateau, but as a springboard to yet greater heights.
"Let us – together as partners – continue to progress from strength to strength, in creating an oasis of goodness, spirituality and kindness for the greater West Hempstead community," says Rabbi Lieberman.
How the campaign works
For the next 24 hours only, every single dollar you give to Chabad of West Hempstead will be quadrupled by our three generous matchers to reach their goal of $100,000.
Every penny you donate is quadrupled!
This means that:
Your $50 donation –> multiplied by 4X = $200
Your $126 donation –> multiplied by 4X = $504
Your $180 donation –> multiplied by 4X = $720
Here's the catch: The campaign is all or nothing. Chabad of West Hempstead must raise the full amount or all donations will be returned. It's $100,000 in 24 hours or nothing!
Click here – Chabad West Hempstead – to meet the matchers, learn about Chabad of West Hempstead and of course to donate. Please share this campaign with all your friends and family!