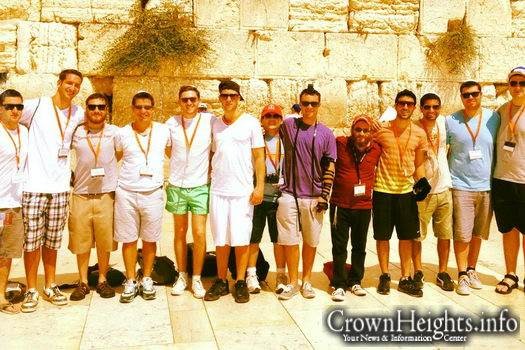 File photo: A Taglit-Birthright trip organized by Mayanot.
Have you been looking for a Taglit-Birthright Israel trip that can get you and your friends to Eretz Yisroel? Are you hoping to send your son or daughter to Israel but are worried about sending them with a standard Birthright Israel trip?
Mayanot is proud to announce their brand new "Yisrael Sheli" trip. Yisrael Sheli means My Israel. That is what Israel is all about – You. You'll experience Israel through many lenses – but most importantly, your own lens! Other like-minded people from across the USA and Canada will join you along the way as you celebrate your common history and heritage in Eretz Israel.
This trip is tailored for you, with special visits to ancient and modern religious sites but still includes the Birthright Israel highlights like climbing Masada, camel riding, beautiful hikes and amazing young Israelis that will join the trip.
The trip, which will be provided with Mehadrin Kosher meals and will be visiting Kivrei Tzadikim, is the perfect way for today's young frum people to experience the Birthright Israel gift.
This program is also open to Canadians however all participants are responsible for their travel to and from the US gateway city of departure (NYC).
Both the men's and women's trips will be departing NYC on June 30 and returning on July 10. Please note, these are completely separate trips and are on separate flights as well.
Registration for the free trips opens on February 3rd at 10:00 EST at www.mayanotisrael.com.
To fill out a preliminary application please click here for women and here for men.
For more information, please email yisraelsheli@mayanotisrael.com.