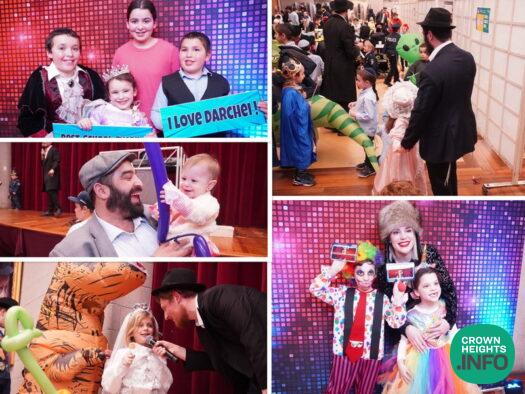 Darchai Menachem Hosts Community Purim Party
As Adar 5783 draws to a close, the Darchai Menachem community can't help but reminisce about the incredible Purim celebration that brought over 300 members of the school community together for a joyous bash. Students, families, staff, and friends joined forces for an amazing evening filled with laughter, farbrenging, and lots of Simcha.
The event kicked off with a lively megillah reading, followed by a delicious meal to break the fast. Attendees enjoyed a spread of pizza, pasta, salad, soup, and hot drinks. Everyone hit the dance floor to dance the night away to freilach live music by Fitche Benshimon, accompanied by Zalman Newman, who kept the energy high and the smiles wide.
One of the highlights of the evening was the costume masquerade, where everyone got to show off their unique and colorful costumes. The face painting station was also a big hit, with kids lining up to get their faces painted in all sorts of fun and playful designs. Darchai students and their siblings had a blast playing games and winning prizes, and a cool photo booth captured all the Purim memories.
The event was a smashing success, and everyone who attended had a wonderful time. It was a fantastic opportunity for the school community to come together and jump into the Purim spirit. The event organizers did an amazing job, and their hard work and dedication truly paid off. Students are already counting down the days until next year's Purim celebration!