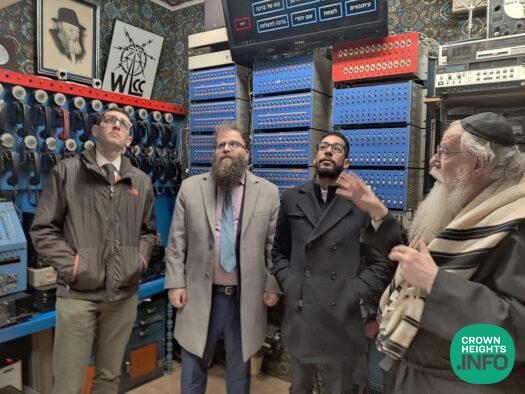 Brooklyn Borough President Visits Crown Heights, Takes Tour of 770
Crown Heights received a special visit from the Borough President Antonio Reynoso, on Monday. Accompanied by his Chief of Staff Asher Freeman and Jewish Liaison Jacob Eisdorfer, the group embarked on a tour of the area to meet with community leaders and discuss pressing issues.
The visit began in the communication room, where Reynoso and his team learned about the rich history of Lubavitch in the area and met with Rabbi Chaim Baruch Helberstam and Rabbi Mendel Eisenbach. From there, they proceeded to the JLI offices to engage with a group of Crown Heights leaders and businessmen.
Rabbi Yaacov Behrman, the Director of Operation Survival and JFA founder, highlighted recent street closures that conflicted with Jewish holidays and the installation of Citibike on Kingston. While Reynoso expressed support for biking initiatives, he acknowledged the importance of coordinating locations to better serve the community's needs. Reynoso said he would work with city officials and representatives from Citibike to identify potential solutions to the current placement of stations. Rabbi Berel Majesky, Director of the Friendship Circle, also invited the Borough President and Chief of Staff to participate in an upcoming friendship circle bike ride.
During the meeting, businessman Binyomin Levin inquired about Reynoso's recent comments regarding single-family homes in Brooklyn. Reynoso clarified his stance, stating that he aims to allow homeowners to expand their properties to accommodate multiple families, thus creating more housing options for families and the community.
Reynoso also addressed the mental health crisis and the need for more services, an issue that was echoed by Yossi Hershkop, who expressed difficulty in finding counselors who speak Hebrew. The Borough President was also commended for his even-handed approach to Yeshiva education.
Also participating in the meeting were Rabbis Lazer Avtzon, Dovid Katz, Mendel Rosenfeld, and Shlomie Hecht.