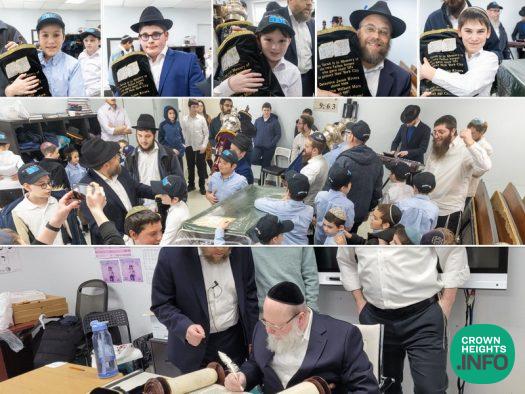 Intimate Hachnosas Sefer Torah Held at Darchai Menachem
On a recent Thursday morning the boys in Rabbi Samuels' 4th grade class at Darchai Menachem in Crown Heights had a unique opportunity to get up-close and participate in their own Hachnosas Sefer Torah. The ksiva of the newly refurbished Torah was finished in their classroom after which the boys escorted the Torah to the Yeshiva's shul for some lively dancing.
The Torah belongs to the Jewish Center in Howard Beach, where Rabbi Samuels serves as the Rov for many years. It is a light Sefer Torah, which makes it easy for the elderly residents of the Jewish center to carry, but it was old and no longer kosher. So, Rabbi Samuels gave it to Mr. Bentzion Chanowitz of the Beis Yisroel Torah Gemach to have it fixed, which he kindly did as a gift to the Center.
The Torah was fixed and computer-checked and Rabbi Samuels, a devoted mechanech, saw this as a unique teachable moment to bring his students a hands-on lesson about the mitzvah of Ksivas Sefer Torah. Rabbi Samuels brought the Torah to his classroom in Darchai Menachem to be completed. Sofer Rabbi Yaakov Spitzer helped each student to fill in their own letter in the Torah. They were followed by the rebbis who did the same. Many of the boys had questions about the writing of a Sefer Torah, its halachos, and their practical application. In the student-centered manner for which Darchai Menachem is known, the boys' questions were patiently answered. "It was an unusual and special experience," said Rabbi Eyal Bension, Darchai Menachem's Executive Director and Dean. "This setting was haimish and intimate and on the boys' home-turf. They weren't participants in an adult-focused event, they were the focus and they felt comfortable to fully participate in and explore the relevance of the mitzvah."
As students, rebbis, police officers, and school staff joyously paraded the now-complete Torah to the shul, Rabbi Samuels watched his students. '`What better way could there be to show them the importance of Torah and Mitzvos in our lives than to bring to life such a celebration?" he said.
And as each student took their turn dancing with the Torah, the joy on their faces assured that this is an experience they will take with them for the rest of their lives.
Enrollment for the 2022-23 school year at Darchai Menachem is now open and accepting applicants for Pre-1A and Mesivta, with limited openings in select grades.
Apply today: https://www.darchaimenachem.com/forms