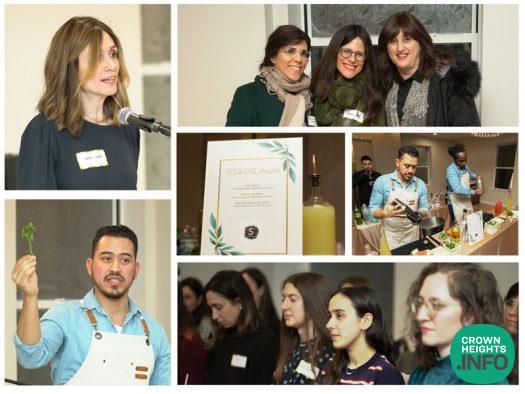 Bikur Cholim of Crown Heights Holds Volunteer Appreciation Evening
Rebbetzin Chaya Mushka Bikur Cholim of Crown Heights held an evening celebrating the Rebbetizin's legacy of care & kindness by highlighting the selfless and devoted work of its volunteers.
Naomi Pinson, Director of Bikur Cholim of CH, recounted several rarely heard stories of the Rebbetzin's personal care for people in her orbit who were dealing with illness or injury. "I was struck by the Rebbetzin's sensitivity and humor", one of the attendees recalled. Mrs Pinson elaborated on the great zechus of volunteer work, the tremendous power of a single action done for the betterment of another's situation, and the tangible impact every act of bikur cholim has on a patient.
Besides the usual gorgeous setup of flowers and desserts, the tables were decorated with patient testimonials— copies of the many cards, letters and messages that bikur cholim recipients have sent to the organization. The volunteers were incredibly touched to hear the heartfelt words of thanks, since the often their interactions with patients is kept discreet, and volunteers don't often get to see firsthand the ripple effects and beautiful results of their actions.
An award for Outstanding Volunteer was dedicated posthumously to Mrs Razel Wolvovsky
OBM, and accepted graciously by her daughter in law Rosie Wolvovsky.
Sarah Blau led the intimate crowd in a game of ice breakers, which evolved into an eye-opening and inspiring sharing session. Volunteers took turns offering their personal experience and advice on dealing with the challenge but ultimate reward of balancing family and work obligations while still making time for chessed. They also offered each other chizzuk and acknowledged how inspiring and affirming it felt to be appreciated. Several mentioned what a price large it was to be counted among this special group of women. The togetherness was palpable and very moving.
Finally, a bartender from Squared Mixology presented an entertaining demo for the ladies, teaching them how to mix professional level cocktails, with recipes and delicious samples for everyone.
The guests left the event with a full heart, a feeling of being appreciated—which is hard to top—and gratitude for the inspiring Bikur Cholim of Crown Heights community. They also received a gift bag containing a luxurious scented candle and the new publication "Healthy in Body, Mind, and Spirit: the Rebbe's perspective on mental health", a timely and relevant topic.
Thank you to Chani Greenbaum, Mendy Kulski and Sichos In English for help making it a beautiful evening.
If you'd like to get involved in this important work and make a difference in patients' lives, please visit www.bikurcholimch.org or call 718-467-1661.