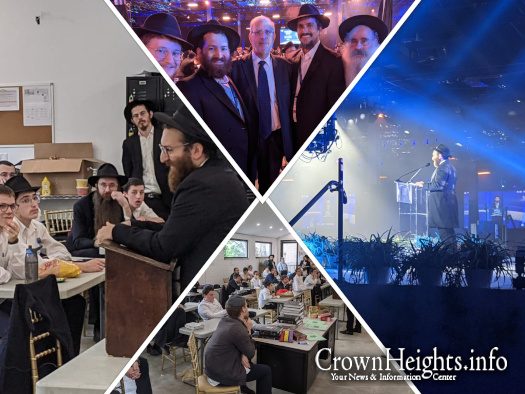 Darchai Menachem Alum Returns to Inspire Students
Earlier this month, thousands of Shluchim gathered in Crown Heights for the Kinus, relishing the opportunity to connect with colleagues and friends from all corners of the globe. For many Shluchim, the Kinus represents a homecoming of sorts as they get to visit the families and schools that helped raise them. Some even take the time out of their limited schedules to give back to those schools and ensure that the next generation of Shluchim are inspired to follow in their ways.
Rabbi Mendy Sternbach, the shliach to Lagos, Nigeria, had a packed weekend planned from stocking up on once-a-year Kosher goods that you cannot buy in Africa to preparing for his big speech at the Kinus Gala Dinner on Sunday evening. Despite his busy schedule, Rabbi Sternbach made sure to fit in one special visit – a return to Darchai Menachem, the school that got him started on his eventual path to shlichus.
Sternbach spoke to Darchai's Mesivta and shared exciting tales of life on Shlichus in Nigeria. He also reminisced on some of his favorite memories from his days at Darchai, noting the significant growth since his early days at the school.
"It is amazing to see how much this Yeshiva has grown since I was here," says Sternbach. "At that time, there were maybe 20 or 30 Talmidim learning in a small, rented space. Now Darchai is a full thriving school with a proper school building."
For Darchai's Mesivta principal, Rabbi Dovid Marazov, it was a reminder of the importance of the formative years of Chinuch and a nachas in seeing former students actualize their potential. "The connection that Darchai has with its Talmidim is truly special," he says. "Our alumni never really leave Darchai. Even as they move on to the next stage of their lives, they always know they have a home to visit."