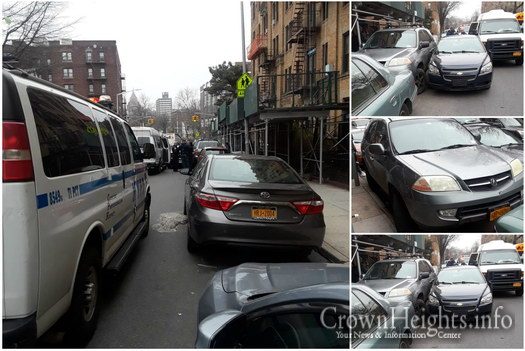 A routine NYPD traffic stop in Crown Heights turned into a police chase that ended in a three car accident and foot pursuit. Multiple people were ultimately caught and placed under arrest.
by CrownHeights.info
A group of men driving a stolen vehicle were pulled over by a NYPD vehicle on Sterling Street between New York and Brooklyn Ave Tuesday afternoon. Despite originally pulling over, the people in the vehicle decided to attempt to evade the law instead.
A witness to the incident tells CrownHeights.info that the car waited only a a few moments before speeding away towards Brooklyn Ave and turning right.
The car made it halfway to Lefferts Ave before swiping an ambulette and hitting a parked car. Ditching the car, the group split up and began to run, starting a foot chase.
The police chased the men on foot and in vehicles finally catching them in multiple locations within a few blocks. They were all caught within a few minutes and placed under arrest.
No one was reported injured in the incident.