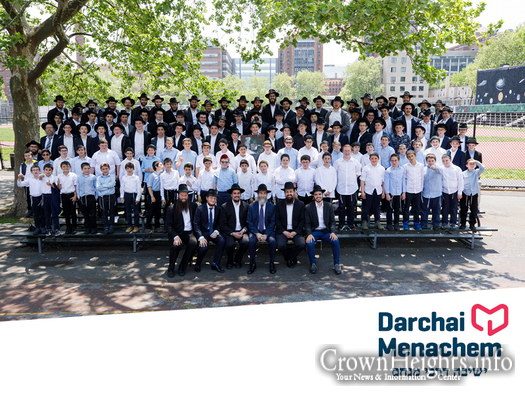 The newly established PTA of Darchai Menachem organized a Pesach pass for their teachers and staff with discounts to local Crown Heights stores. Over 30 local vendors have offered special discounts to the staff to make Pesach shopping a little easier. "It's really the least we can do," says Rivky Perl, one of the committee's chairwoman. "Our teachers are fully committed to our boys, caring for them as they would their own."
Pesach Passes is just one of the many initiatives that the PTA will be launching to benefit the Darchai Menachem community. This Sunday, a fundraiser car wash will help the community get ready for Pesach while bringing in funds that will help the PTA operate.
"When the parent body get together to support our teachers and students," says Rabbi Eyal Bension, school director, "our yeshiva becomes a community."
Show your support for the PTA by getting your car cleaned this Sunday at ENY Auto Center. We are grateful to Aron Hershkop, one of Darchai's parents for hosting.
The PTA, headed by Mrs. Tzini Brand, Mrs. Batsheva Borenstein, and Mrs. Rivky Perl, will focus on offering in-class extracurricular activities for the students, host parent events, and provide opportunities to recognize the dedication of the staff.
A heartfelt thank you to the following establishments for their support of Chinuch in our community:
Apple Drugs
Clean Spot Cleaners
Crown Drugs
E & I Treasures
Eber's
ENY Auto Center
Everything but the Baby
First Quality
Gombo's
Hair Lounge by Sarah
Hamafitz
Judaica World
Little People
Little Toes
Malkiel's Barber Shop
Mendy's
Merkaz Stam
Mr. Greens
Mr. Clean
Post Mark-It
Primo Hatters
Raskin's Fish
Red Apple Fruits & Vegetable
Regency Cleaners
Shabbos Fish
Sunshine Pharmacy
Top Fashion
Totally Her
Tzfasman Jewelers
Vision-Site Optical
Weinstein's
Welcome Home
Young Timers
Yomtovsettings.com