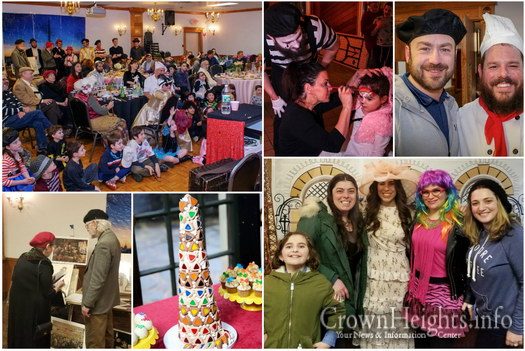 The Jewish holiday of Purim had a double dose of joy at Chabad of Orange County this year. The community celebrated together at "Purim in Paris" as well as the Bar Mitzvah Ceremony of Yossi Burston, son of Chabad directors Rabbi Pesach and Chana Burston.
Yossi, who was born on Purim, celebrated his bar mitzvah ceremony by leading the community Purim services. Yossi led the prayers, read and was called to the Torah and also read the Megillah, the Scroll of Esther, read on Purim each year. The special service was held at the Rushmore Estate Ballroom in Highland Mills. A festive brunch followed the service.
"It's a beautiful blend," said Rabbi Pesach of combining his family life and work as a Chabad emissary. "To be able to celebrate a bar mitzvah on Purim is a perfect blend of our two passions: family and community."
Just a few hours later, the community gathered from all over Orange County to celebrate "Purim in Paris." The festive gala, held at the at the American Legion Hall in Monroe, featured a fun and entertaining event for all ages. A delicious buffet dinner, featuring French cuisine, as well as an elaborate "Café de Chabad" dessert table with French pastries as well as Hamantashen, the traditional Purim Pastry. The gala also included a masquerade, entertainment by RJ Lewis and face-painting by Kimberly Gemmati. There was also an art auction by local artist Brian Shapiro.
The Burstons, who has been in the area for a decade-and-a-half, say they hope people come away having not only been able to fulfill the mitzvahs of Purim, but that they take an all-encompassing message with them as well. "We hope people discover that Judaism is not about 'oy,' but about 'joy.'"
Ira Kanis, who lives in Monroe, with his wife, Karen, and is Gabbai at Chabad of Orange County, says that his experience at Chabad's celebrations are far more than the festivities, but "a sense of spiritual reawakening. It's an experience of continual spiritual growth." "It's just a wonderful experience; it's lively, and then there's always the food," he says.
The holiday of Purim celebrates the salvation of the Jewish people living in the fourth century from Haman's plot to annihilate the entire Jewish nation. It is observed by public readings of the Megillah (or Scroll of Esther), sending food to friends (knows as "mishloach manot"), giving gifts of money to the poor, and enjoying a festive meal. A time-honored Purim custom is to dress up and disguise oneself—an allusion to the fact that the miracle of Purim was disguised in natural garments. This is also the significance behind a traditional Purim food, the "hamantash"—a pastry whose filling is hidden within a three-cornered crust.
For more info about Chabad's community programs and events, open to all, contact Rabbi Pesach and Chana Burston at 845-782-2770, write rabbi@ChabadOrange.com or log onto www.ChabadOrange.com.
The events were made possible thanks to many volunteers and sponsors. Special thanks to Chabad Youth Directors DL Rosenfeld and Lulu Feldman and well as the Shluchim and Bochurim of Mesivta Lubavitch of Monsey.
Bar Mitzvah Service Photos courtesy of Nechama Kotlarsky. Purim in Paris courtesy of Dr. Michael Hoffman.