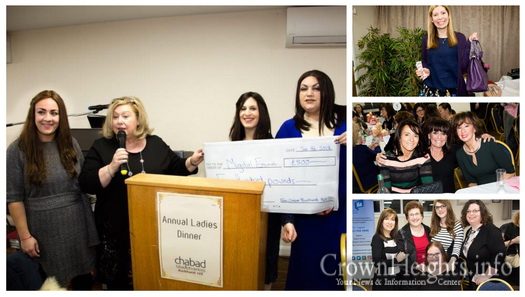 Each year the Ladies of Chabad Buckhurst Hill hold an Annual Fundraising Dinner and choose a Charity of Choice to twin the evening with and raising money for, in addition to their own outreach work.
Last week, the annual dinner twinned with Migdal Emunah, the leading UK charity supporting victims of abuse within the community. Being a subject of extreme importance while at the same time being one that many find difficult to speak about in public, the committee, headed by Rebbitzen Henny Brandman felt that within the format of their ladies dinner, this could be an appropriate way to highlight the fantastic and important work of Midgal Emunah and address it in a sensitive way.
The charities founder and Chief Executive, Yehudis Goldsobel was the Guest Speaker and Guest of Honour and she movingly addressed the gathering, telling of her amazing and challenging work and thanking the ladies for recognizing and supporting her and her work. Yehudis was presented with a cheque for £500 from the proceeds of the evening.
The dinner itself was undefinably brilliant, the atmosphere was one of elegance with an impression of timelessness. The participants could clearly see how much time and effort went in to making this night one to remember. It never ceases to amaze, how when guests walk into Chabad Buckhurst Hill, how their hall can be so beautifully transformed into so many different layouts and in such a welcoming, modern and classy way!
The evening opened with Henny Brandman sharing some inspiring words about the power and great potential of the Jewish Woman, being so close to Purim she drew a comparison to Queen Esther, the heroine of the Purim story.
Live entertainment was presented by awarding winning Gabby Niman who sang a variety of songs ranging from Jewish classics to some of her originals.
Everyone was enthralled and captivated by the Guest Speaker's passion as she spoke about her work at Migdal Emunah, what inspired her to create such a service, and how much help they have already given to the numerous individuals and families who seek their support.
A raffle helped raise money on the night. Many prizes were donated by members of the community and with so many lovely prizes over a thousand raffle tickets were sold.
The food was all prepared in-house by Neil and Alison Cohen with some assistance by the Chabad's two resident girls Sheina Edelman and Leah Sacks and the Ladies Dinner Committee.
A real feeling of accomplishment and "having done a good thing" lingered with everyone as they left the evening on a high, having known they were part of something special and excited to be part of the next one!