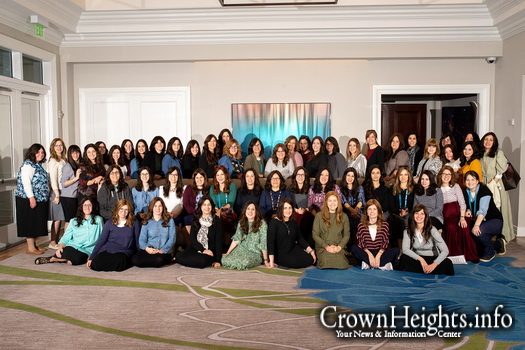 Chabad on Campus Shluchos from across the United States and Canada came together for the Ashreinu Society for Shluchos Annual Retreat on December 18-20. More than 65 Shluchos enjoyed two days of relaxation and bonding at the Hyatt Coconut Point Resort and Spa in Bonita Springs, Florida.
Ashreinu Society for Shluchos was formed by Chabad on Campus International with the mission of creating a network of Shluchos all over the world. Ashreinu organizes bi-weekly conference calls for groups of Shluchos as well as virtual Farbrengens with well-known speakers. These initiatives serve as a vital resource for Campus Shluchos, creating the opportunity to form bonds with people all over the country.
"Our bi-annual retreat provides Shluchos with a unique opportunity to relax and unwind in a welcoming environment," said Rabbi Yossy Gordon, CEO of Chabad on Campus International. "The Shluchos work tirelessly year-round to provide excellent programming for students, and we're thrilled to be able to provide them with a relaxing getaway full of learning and bonding."
The Shluchos enjoyed two days of relaxation combined with educational workshops and skill-building exercises led by industry professionals for the body and the soul. The line-up of presenters included Rachel Goodman, Registered Dietician Nutritionist, Shternie Wuensch, Marriage and Family Therapist, and teacher and Torah scholar Rivky Kaplan.
"I came home on fire. Rivky Kaplan was phenomenal and I want more! I reconnected stronger with my kids and that was directly impacted by Sashie Friedman's presentation," said one Shlucha. "I was also impacted positively by Shternie Wuensch's session and I feel like I made some steps towards connecting with others and that is uplifting"
Additional highlights of the retreat included a visit to a local island, invigorating exercise classes, and inspirational talks. Each workshop offered opportunities for the women to relax, learn, and enjoy the spa-centered amenities.
The retreat was sponsored by Chabad on Campus International. Nechoma Dina Dubrowski of Chabad on Campus International, Manya Lazaroff of Chabad at Texas A&M University and Gitty Webb of Chabad at Princeton University were instrumental in making the event happen.
"It is so rejuvenating to spend relaxed time with other Shluchos enjoying, learning and connecting. I feel like Ashreinu makes sure we are really well cared for," shared Chani Shemtov, Co-director Chabad at University of Illinois at Chicago. "It's a great break from everyday life where we spend so much time caring for others. Thank you for treating us to such a well put together retreat. I'm so grateful."