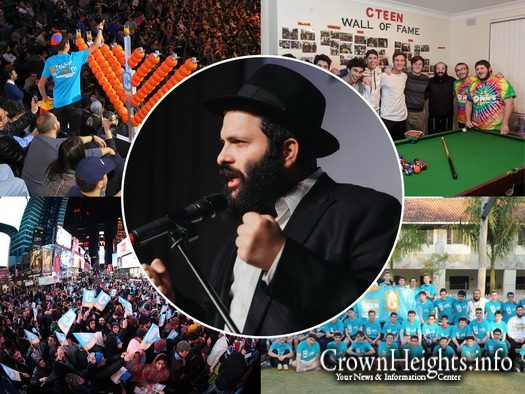 A decade ago, the Chabad house retention rate for the post Bar/Bas Mitzvah demographic was next to none. While Chabad houses brimmed with preschoolers, middle schoolers, adults and seniors, engaging teens was next to impossible.
Enter the Meromim foundation. Funded by philanthropist Yitzhak Mirilashvili, the foundation is driven to bridge this gap of young Jewish involvement.
Four years ago at the kinus hashluchim, Rabbi Moshe Kotlarsky pledged 200 new shluchim to cater to the young adult generation. Shortly after, the Meromim foundation sponsored 50 new teen shluchim. By covering a significant portion of the financial burden, Meromim allowed the CTeen Shluchim to focus on the actual work of hafatzos hamayonos to this "impossible" demographic.
Just 3 years since its inception, the Meromim foundation has rewritten the script for Chabad's teen reach. With almost 500 chapters in 27 countries and 6 continents, CTeen, the Chabad Teen Network is the fastest growing network of Jewish teens.
Two years ago, Rabbi Gedalya and Ruthie Hertz moved to Alpharetta, GA. "Starting a new CTeen chapter has many challenges," shares Rabbi Hertz. "Thanks to Meromim, we have been able to spend more time focusing on developing individual relationships with teens and their families. We have boruch Hashem found success well beyond what we ever expected."
The Meromim revolution spearheaded by Rabbi Bentzi Lipskier of S. Petersburg, Russia, has changed the landscape in cities both large and small. Middle schoolers can't wait to join CTeen, while parents are reassured that their teens have a place at Chabad.
With no teen programming in Longmont, CO, Rene Reeme was concerned about the lack of Jewish opportunities for her adolescent children. Rene even considered driving them up to Ft. Collins or down to Boulder, but doubted the long distant connection would work. Longmont soon was on Meromim's map; the dynamic Borenstein couple moved down that very summer.
"Each time a CTeen event is announced, my oldest makes sure our calendar is free because he does not want to miss anything," Rene reports.
"I cannot speak highly enough of the program or its leadership. Rabbi Mendel and his wife Goldie have been welcoming to our entire family. They are the best of role models and their love and sense of adventure are shared generously.
When I look back on how anxious I was to parent a teenager, I am reassured. I am relieved to know that CTeen will be there to help us guide our young man towards choosing the beliefs and values that we cherish within our family."
On the heels of a Sukkos campaign where teens participated at over 100 locations in France, Rabbi Mendy and Chaya Mottal express their gratitude: "In just a few years we have built the biggest Jewish teen network in France, with more than 6,000 members. The success is entirely because of the Meromim's vision of building a CTeen regional branch."
Seeing the potential for success with teens, shluchim worldwide are joining the revolution. CTeen ran a registration drive this summer with a steady average of 5 new CTeen chapters opening per week!
"Where would we be today if not for CTeen?" is a sentiment often expressed by our members,
quips Rabbi Shmuel Moskowitz, of Flagstaff AZ. "We say, 'Where would we be if not for Meromim?"