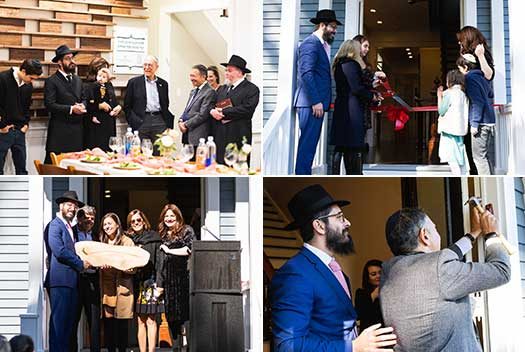 Chabad at Dartmouth Inaugurates Jewish Student Center
The Rohr Chabad center at Dartmouth which has been serving Jewish students on campus since 2003, officially opened the doors of the Hilary Chana Chabad house in a dedication ceremony this Sunday in front of over 100 guests.
The 9000-square-foot hub on Allen Street, just two blocks from the Dartmouth Green, marks a significant increase in provision for the 500+ Jewish students at Dartmouth College. The house was extensively renovated to make it suitable for its new purpose.
The new student facilities include a 1400 square foot dining room that doubles up as a social space, a large kitchen for catering student events, a 3000-book library for quiet study, and a student lounge.
The building also has a two-bedroom guest suite as well as functioning as the residence of Rabbi Moshe and Chani Gray, the co-Directors of Chabad at Dartmouth, and their family of 5 children. The house sits in a two-acre plot, with a large garden for hosting outdoor events such as barbecues and fire pits.
The purchase and renovation, which cost $3.2 million, was funded by gifts from the parents of students, Dartmouth alumni, and friends and family.
Dartmouth students expressed excitement about the new building. Jacob Swenberg, a sophomore said "Chabad is the only place at Dartmouth where I can connect with my religious roots and still enjoy the company of friends. The new house is a physical location to support this community, whether studying with friends in the downstairs lounge or praying in the beautiful library."
Nina Vogel spoke about the impact Chabad at Dartmouth has had on her, "I knew Judaism defined a piece of me, but it wasn't until I moved away that I felt the weight it carried in my cultural identity. Chabad at Dartmouth has given me a home away from home where I feel supported as a family member and enriched as a student in the Jewish community."
The dedication event, which was MC'd by Chani Gray, featured speeches by Daveen Litwin, Dean of Religious Life at Dartmouth College, and Rabbi Levi Krinsky of Lubavitch of New Hampshire. Lee Coffin, Dean of Admissions, also attended.
American Jewish philanthropists and investors in Jewish campus life; George Rohr, Sue Ann Arnall and her daughter Hillary Chana, and Robert and Debbie Ezrapour were honored at the ceremony for helping to make the new student center a reality. Each of them addressed the crowd.
The dedication ceremony culminated when a mezuzah-parchment was affixed to the door of the House, followed by a ribbon-cutting. The event capped off a weekend of celebration at the Chabad House.
Rabbi Moshe Gray shared his thoughts about the opening. "Dartmouth College's focus on improving campus diversity and inclusivity has led to a growing Jewish student community. The new Dartmouth Chabad House is, in a way, a natural development to respond to the number of students. We're proud to be able to provide a hub for Dartmouth Jewish students where they can feel welcomed and comfortable."
"We realized that our old space was just too small to host all the events that we wanted to run," explained Chani Gray. "We weren't able to expand our activities to match demand, and sometimes we had to run events wherever we could get a room on campus. The new Chabad House will be a real focus of Jewish life at Dartmouth, and home away from home for Jewish students."