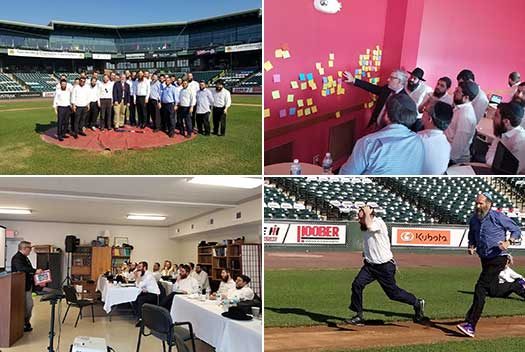 People often take part of the summer to unwind and go on family trips, with Lancaster, Pennsylvania being one of the more popular tourist destinations.
But when 41 Shluchim recently traveled to Lancaster from all over the country it wasn't for fun. It was to learn and develop new skills in communication and fundraising. Called "Grow Gelt," it was hosted by Chabad of Lancaster and ran from July 9 – 11.
"I am beyond thrilled that so many Shluchim traveled from so far away to join us here," said Rabbi Elazar Green, Director of Chabad of Lancaster and organizer of the conference. "I am delighted and honored to be able to host so many Shluchim in our humble Chabad House."
Shluchim came from California, Seattle, Chicago, Virginia, Florida, New Jersey, New York, Pennsylvania, New Orleans, Canada and more to participate in the rigorous 7am – 10pm schedule.
Marc Pitman, from the Concordia Leadership Group, is one of the most sought-after lecturers in the non-profit training industry. He led a series of workshops called "Ask without Fear" as well as many other training and discussions together with Rabbi Green.
Pitman's reaction to the conference was to thank Green for the invitation. "It is always a pleasure to work with Shluchim," he said. "I think they are doing such incredible work. The world needs them."
The Shluchim made sure to practice their newly learned skills of communication by writing thank you notes to the principal supporters of Chabad of Lancaster, sharing with them the personal transformation that they achieved at the conference.
Other highlights to the conference included enjoying a delicious pepper steak dinner in the Kosher Cafeteria at Franklin and Marshall College. Another was spending a half a day in sessions at the local Lancaster minor league baseball stadium, where the Shluchim took a few minutes in between sessions to try out the field and run the bases.
Rabbi Moshe Langer flew in from San Francisco. "What an amazing three days," Rabbi Langer said. "It was very heartwarming to meet, share, and learn with so many Shluchim. A big thank you to Rabbi Elazar Green and Marc Pitman for putting on this Conference. The trek to Lancaster sure was worth it. This is the type of stuff that should be a prerequisite to going into Shlichus."
Shluchim who couldn't make it have already been in touch with Rabbi Green asking for a repeat of the conference. They are signing up here to be notified.