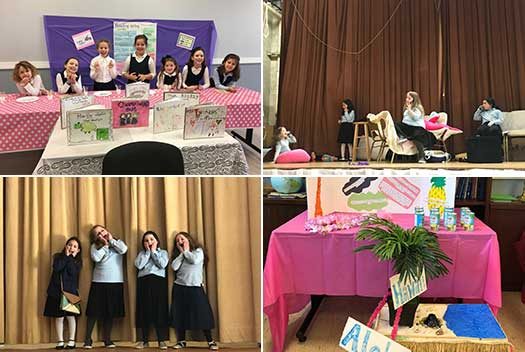 Cheder Chabad Girls of Long Island completed the school year with activities that highlighted the students accomplishments over year, along with the announcement of a new principal, who will begin next year.
Cheder Chabad Girls LI had so many wonderful programs/performances during the last week of school. The pre1a had their siddur party where there sang the 12 possukim. The parents were so proud to see how much their madelach grew and learned this year!
First grade had a State Project where each girls learned about a particular state and presented it to the parents and other students. They also sang in unison the song of all 50 states in alphabetical order. 2nd grade had an author presentation. Each girl was the author and illustrator of  her own book which she then read out loud to her friends and family during the presentation. 3rd/4th grade wrote and preformed an original play.
Along with all the lemudi kodesh  programming and learning, CCGLI girls are encouraged to kindle their creative side in a school setting in a way that complements their academic achievements.
Recently CCGLI announced the addition of their new principal, Mrs. Chaya Unsdorfer. Mrs. Unsdorfer  holds a Masters Degree in Education and Special Education from Touro College. She has spent the past 8 years involved in chinuch, both as a classroom teacher, as well as providing one on one therapy.   "We are so excited to have Mrs. Unsdorfer join our staff!  She is already hard at work preparing for the fall,"  comments Mrs. Chavie Lieberman, Executive Director.
Cheder Chabad Girls of LI opened its doors in September 2015. There are still slots opened for the 2018-19 school year for grades pre1a-5th grade. For more information call or text 516-447-1770 or email  chedergirlsli@gmail.com. Cheder Chabad Girls of LI caters to Shluchim and Anash of Long Island and Queens.