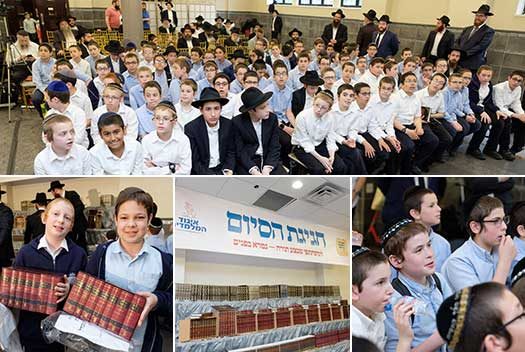 A novel celebration took place on Sunday, as sixth grade boys and their parents gathered in Crown Heights to mark the completion of a yearlong commitment to mastering pages of Gemara inside.
The program, called Gemara Bifnim, is a project of Crown Heights based Igud Hamelamdim, and ran its pilot program this year in four local schools and another three around the US. Many more schools have signed up to join once the program expands.
"While being able to read the Gemara inside is assumed to be basic to learning Gemara," explains Rabbi Avrohom Bluming, the director of the organization, "the reality is that it is becoming a growing challenge. Children nowadays are finding it ever more challenging to focus on words on a page, and it really hits them hard when they enter yeshiva. We came up with a revolutionary way to give the children these fundamental skills in an exciting manner."
How does it work?
Every three weeks each class took a written test on whatever material they covered. Boys were given a Gemara to look inside, and questions were limited just to deciphering the Gemara's give-and-take. Every question answered correctly earned them points towards prizes at the end of the year – no minimum.
"This program is really unique," said Levi Tennenbaum, student of Cheder Lubavitch in Chicago. "It really helped me know the Gemara inside." Appreciation poured in from teachers and students alike for the reinforcement of this fundamental learning skill.
At the event, veteran teacher Rabbi Osher Oster spoke about the importance of inside study. "This is the most important form of learning," he told the students. "Even if it isn't fun or glamorous, it will give you long-term access to learn Torah." He encouraged parents to take the time to listen to their sons read from the Gemara at least once a week, so that they develop this valuable tool.
A highlight of the program was a siyum on perek Hamafkid by Moshe Teldon, student at Cheder at the Ohel, who was inspired by the mivtza to learn the perek by heart. Rabbi YY Simpson, principal of ULY, addressed the students and noted how the Rebbe was particular to look inside the siddur and other seforim. Then the prizes were awarded to the students by Rabbi Yehoshua Lustig, division principal at Oholei Torah, and Rabbi Yosef Wolf, division principal at ULY.
Rabbi Pinchos Margolis, principal at Cheder at the Ohel, shared his appreciation: "As us mechanchim know, one of the greatest challenges in learning is to get the students to master the text, bifnim. With the mivtza, the boys didn't only master learning inside, they were actually excited about it. It was really, really amazing."