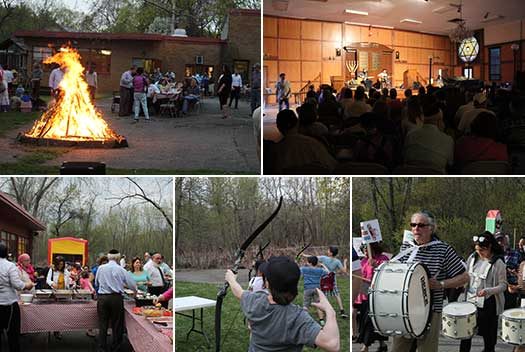 Like other important days on the Jewish calendar, Lag B'Omer carries with it deeply historical and religious meaning.
It just so happens, however, that Lag B'Omer leans toward the festive end of things, and members of the local Jewish community gathered at Central Mass Chabad Thursday for an evening of food and festivities.
A parade through nearby Newton Square kicked off the holiday, and there were archery competitions, a petting zoo, a live band and a bonfire.
Historically, the holiday was celebrated by going out into the fields for introspection and celebration. But in 1953 Rabbi Menachem M. Schneerson initiated the Lag B'Omer parade as a display of Jewish pride and unity. It has evolved into a global celebration, Rabbi Mendel Fogelman said during Thursday's celebration at Central Mass​ Chabad.
The rabbi explained that historically, Lag B'Omer marks the anniversary of the passing of the sage and mystic Rabbi Shimon bar Yochai, author of the Zohar, the foundational work of the Kabbalah. It also marks the end of a plague between Passover and Shavuot 2,000 years ago, Rabbi Fogelman said.He said it's part of the Chabad's mission to ​educate​, but on Lag B'Omer, it's in a festive way. Still, it has true meaning. The rabbi's wife, Chani Folgeman, said the archery set up for youths at the celebration has a deeper meaning. She said to make the arrow go forward, you have to reach out and pull the bow back to you.
Holding a burger and heading back to join his friends, young Jordan Dennet was enjoying the holiday celebration. "I really like the archery," he said.
Rochele Fogelman, Rabbi Fogelman's mother and wife of the late Rabbi Hershel Fogelman, founder of Yeshiva Achei Tmimim synagogue and school, said Lag B'Omer is significant because it "honors students of Torah, and not just young children, but all ages."
Rabbi Fogelman said  ​"youth are essential to keeping the local Jewish community tightly knit."​​
Chabad runs an after-school program called "J-FAM" Jewish, Art, Fitness, & Music​ ​which offers transportation for Jewish public school Children who live within 10 miles of the Chabad. ​The program is run Monday thru Thursday 2:30 PM to 5:30 PM. Each day when the children arrive they are given a snack and are assisted with their homework. ​They daven and have activities, at 5:00 PM a Hot Fleishig Dinner is served and stories of tzaddikim are read.