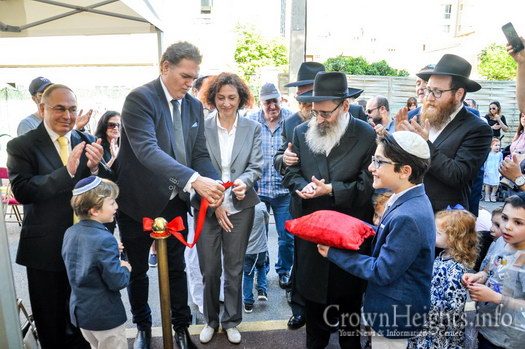 This Sunday the inauguration of a new Chabad House took place in Le Cannet, in the French Riviera.
Le Cannet is a city bordering Cannes, where today some 250 Jewish families reside, many of them have moved to Le Cannet in the last years. There has never been there a Synagogue there, and the need to create a new one has long been felt.
In September 2014, Chabad of Cannes, directed by Rabbi Yehouda-Leib Matusof and his son Rabbi Mendel, had created an satellite location in Le Cannet. Rabbi Levi Gourevitch and his wife Mouchka were appointed as Shluchim in Le Cannet.
With the growing number of members, and the success of the many activities for all ages offered throughout the week, the previous location has quickly become too small.  After searching for a local meeting the needs of the Community, a perfectly adapted and easily accessible place was found in the center of Le Cannet. Renovation and security work had to be done, and the Chabad Center was inaugurated on Sunday, becoming the first Synagogue of town.
The municipality welcomed the creation of the Synagogue with great enthusiasm. The Mayor of Cannet, MP Michèle Tabarot, and her brother Philippe Tabarot, Vice-President of the Regional Council, have a long-standing friendly relationship with the Jewish Community and the Matusof family.
The event started with words of welcome by Rabbi Youdi Lewin, then Rabbi Levi Gourevitch spoke with warm words, inviting the many present to frequent this place. Rabbi Mendel Matusof spoke of the importance of opening new Chabad Centers, and gratefully thanked the sponsors.
Then it was the turn of the officials: Philippe Tabarot spoke on behalf of the City, and reaffirmed his friendship with Chabad : "You are at home in Le Cannet!" He assured the City of Le Cannet is proud to inaugurate this Jewish Center. "It is a place of worship, but also a place of life that we
have just inaugurated. And we are happy to have in Le Cannet, this place which praises the love of others".
Remarks repeated and confirmed by Muriel Di Bari, First Deputy Mayor, who added that it was "an important event for the City, which is happy to meet the expectations of many local residents".
Then followed the intallation of the Mezuzah by the Head Shliach Rabbi Yehuda Leib Matusof, followed by a ribbon cutting ceremony by local officials. Then, after touring the premises, everyone was invited to say "Lechayim" around a large buffet.