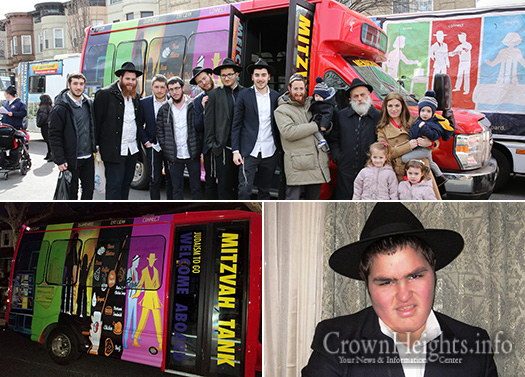 During the Shloshim of Menachem Mendel Bruchstat OBM, friends and classmates came up with the idea of purchasing and dedicating a Mitzvah Tank in his memory. On Yud Alef Nissan, the day of The Rebbe's birthday, it came to fruition.
by CrownHeights.info
Taken from us far too soon, Menachem Mendel Bruchstat passed away at the young age of 19 after battling an illness since being a child. In his short time with us he touched many, and his spirit instilled joy to all those that came to know him.
When his illness worsened and prevented him from leaving his house, his classmates founded "Beis Menachem Mendel," a Shul in the home of his parents so that he could still pray with a Minyan.
After his untimely passing, his classmates from Oholei Torah wanted to establish a meaningful and positive tribute in his memory and during the Shloshim the idea for "Menachem's Tank" was born.
Spearheaded by his fellow classmate Shaya Zakon, they raised the funds necessary to purchase a suitable vehicle, arrange a design and have it 'wrapped'.
The Mitzvah Tanks maiden voyage was made on Yud Alef Nissan at the annual Mitzvah Tank Parade in honor of the Rebbes birthday, where it was one of the leading vehicles of the parade.
The tank was donated by Menachem's parents, Reb Shalom and Rachel Bruchstat together with family and relatives, the Chneor School of Aubervilliers, France, and Oholei Torah classmates.
Menachem's parents also donated his Tefillin, which will once again have a home.
The Mitzvah Tank will go out every week on Mivtziom and is staffed by a group volunteers.