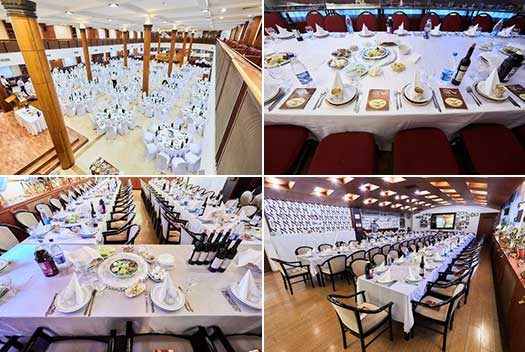 Just before Shabbos and the Yom Tov of Pesach came in, photographer Levi Nazarov went out for a quick round of shots that capture the preparations for about 3000 guests in the central Marina Roscha Jewish Community Center.
In order for every guest to be able to receive attention, and to enable everyone to properly fulfill the mitzvos of the day, the seders were divided by groups and languages, with the main seder led by the Chief Rabbi of Russia, Rabbi Berel Lazar in the shul's main hall.
The rest of the seders were led by an army of shluchim. Each shliach took care of a specific group, which were all color coded based on tickets purchased before yom tov. The seders were able to begin on time as each guest knew exactly where to find their seat in one of the many seders that took place in all of the halls and foyers in the building, as well as the  nearby buildings of Beit Shvidler Educational Campus and the Shaarey Tzedek Chesed Center, all organized by the Executive Director of the Marina Roscha center, Rabbi Mordechai Weisberg.
A team of hundreds of waiters brought out the food from the main kitchens which were koshered in advance by a large group of mashgichim under the supervision of the Chief Rabbinate of Russia. The food was prepared during the weeks leading up to the seder with utmost care.
An additional 36 public seders were held in the various Chabad Houses of Moscow, as well as the yeshivas, educational institutions, and even in the Butirsky prison of Moscow.