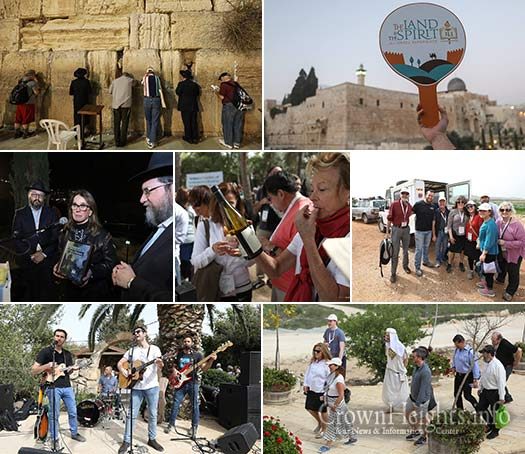 120 shluchim and shluchos along with 770 Chabad House community members arrived in Israel on Monday to participate in JLI's Land and Spirit Israel Experience. The group, traveling from across the US, Canada, Australia, as well as from Central and South America, is the largest group to visit Israel this year.
On Thursday morning, JLI Land & Spirit heard from Knesset Member Eliezer Stern before heading out to visited Judea and Samaria, the biblical heartland of Israel. The day began with a tour of archeological sites in Shiloh, where the Tabernacle stood for 369 years.
The group also had the chance enjoy off-road Jeeping and meet with residents of Judea and Samaria to hear firsthand about life in their communities. A lavish sit-down lunch was served in Shiloh with live music and an inspiring talk by renowned speaker Rabbi David Aaron. Rabbi Chaim Hanoka MC'd the event.
The 20-bus convoy then headed back to Jerusalem where they explored the Western Wall and its tunnels and then sat down at the Davidson Center-Southern Wall Excavations for a special evening program.
The 770 participants on the trip had the honor of being addressed by the Chief Rabbi of Israel, Rabbi Yitzhak Yosef, whose words were translated by Rabbi Efraim Mintz, Director of JLI. Mrs Fruma Schapiro, and Karen Davidson also spoke to the crowd with Rabbis Chanoch Kaplan and Sholom Raichik handling the Master of ceremonies duties.
Photos by Bentzi Sasson