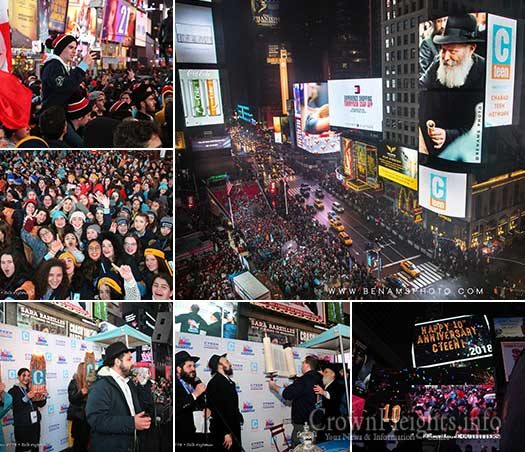 Historic Siyum Sefer Torah in Times Square Honors Parkland, Florida Victims
CTeen made history on Motzai Shabbos with a inspirational Siyum Sefer Torah that was dedicated in honor of the victims of the Parkland, Florida victims, along with a Havdalah ceremony and concert in Times Square.
The moving and emotional havdalah was hosted by Yoni Z, with a special performance by Jewish Rapper Nissim Black, and surprise guest, superstar Gad Elbaz. The highlight of the event included a Siyum Sefer Torah, with Torah letters dedicated to CTeen shluchim, teens, as wells as the survivors of the Parkland shooting.
"The energy was palpable," shared Sarah Salles of Cooper City, Florida. "Our lives were so closely affected by the shooting; knowing that we have our CTeen family to turn to in times like these makes all the difference."
"I've never experience anything like this in my life!" shared Aby Singer, teen leader from Panama City, who was chosen to lead the crowd of over three thousand people in singing Shema Yisroel. "The energy was palpable."
"Tonight's event was a Kiddush Hashem and a Kiddush Lubavitch," shared Rabbi Moshe Kotlarsky, CTeen's Chairman, who filled in the last letter of the Sefer Torah. "Tonight, CTeen took their outreach to a new level, and we expect it to continue growing from here."
Photos by Itzik Roytman