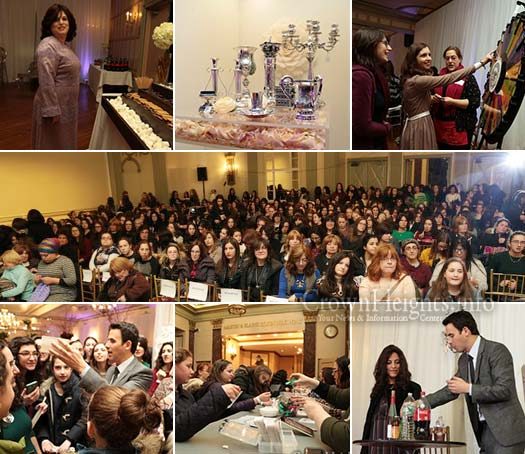 Photos: Thousands Turn Out in Support of KSCVK
Thousands turned out over the weekend in support of Keren Simchas Chosson V'Kallah at their annual auction event in Crown Heights.
The evening opened with an auction viewing, giving attendees the opportunity to purchase tickets ad a chance to win over 100 prizes that were being offered.
A lavish buffet included sushi, a meat carving station and desserts, with the room tastefully decorated.
When the program got underway, the crowd was amazing at the mental tricks performed by Oz Pearlman.
Following the performance the auction winners were drawn. [The list will be posted shortly]
KSCVK is an organization based in Crown Heights which helps soon to be wedded Chassanim and Kallahs pay for wedding expenses.
Winner List:
Grand Prize  M M
JACK POT 1 – Ber Baumgarten
JACKPOT 2 – Shoshana Rabkin
SPLIT THE POT –  Susha Alperowitz
1. Kosherica  – Cruise Hilla Liran
2. Supermarket Bonanza –  Chana E Lewis
3. Furniture – Moshe Orimland
4. Glitter with a Twist – Sholom Gopin
5. Zelda Shaitel – Esther Hurwitz
6. Diamond Drama – Geula Wertman
7. Desktop/Laptop – Kaylie Barber
8. Schottenstein Shas –  M Abramowitz
9. $2,500 Cash – Z Rothman
10.Tableware  – Jackpot 1
11. Silver – Mazal Zirkind
12. Couch – Sholom Scheiner
13. Naturella Shaitel  – Esther Levin
14. Mink Jewelers – Brocho Karp
15. Luxurious Linen – Waldman
16. Trip to Israel – M Ferszt
17. Diamond cuff – B Lokshin
18. KMR Getaway – Malka Simpson
19. Everything but the Baby – Rivi Treitel
20. European Getaway – Chana Geizinsky
21. Allegria Shaitel – RF Rothman
22. Laptop Mero – Skoblo
23. 2 Beds – Yehuda M Zirkind
24. Kirsh Jewelers – Hurwitz
25. Mike's Dinette – Putter
26. $1,500 Save or Splurge – E Ezagui
27. Delightful Jewelry – Ben Cousin
28. Megillas Esther – Motti G
29. Children's Books & More – Shloimy Litvin
30. Me'am Loez – T C
31. Lowes/Ikea – Raz B
32. Seforim Wish List – M Rubinson
33. Target – Shmuly Telsner
34. Washer & Dryer – Kaylie Barber
35. Choice of Stroller – Chanie Sossover
36. Glorious Silver – Brocha Bogomilsky
37. Smart Phone – Perl Kulik
38. $1,000 Visa Card – Danielle Shwartz
39. Kapta and Grooming kit –  Breindy Naparstek
40. Bose Ultimate Package – Mendel Laine
41. Cannon Camera  – Zalmon Dubov
42. Macy's Gift Card  – Eliza Jordan
43. Gas/Metro Card  – Hanna El Kaim
44. Tickets to the usa – Chaim Hurwitz
45. ipad Pro – Fayge Rapp
46. Costco Gift Card – Chaya Bongart
47. Choice of grocery – Chana Galperin
48. Elegant Linen – S Yarmush
49. Toras Menachem – Jacob Fellig
50. Down Quilts – Chaya Podrigal
51. Kitchen Aid – Reuven Blau
52. Enchanting Treasures – Chana Levine
53.Homegoods/Marshals/TJ Max – Zahava Bublick
54. Welcome Home – Sara Kriegsman
55. The Rebbe's Wisdom – Yisroel Raices
56. Designer Bag – Nechama Heber
57. L'Chaim Package – Chana Rabkin
58. Rambam in English – Yosef Charitonow
59. Calphalon Pots – Rachel Suissa
60. Miele Vacuum – Shifra Shurpin
61. Snow Blower – A Metal
62. Childrens Place/Gap – HAG
63. Prestige Embroidery – Gershon Orenstein
64. Midrash Says – Shayna Levitansky
65. Point and Shoot Camera – Ari B
66. Nespresso – Jackpot 2
67. Playmobile – Family Hecht
68. Manicures – Liba Rivka Gurfinkel
69. Spa Package – Bracha Hurwitz
70. Olivia Burton Watch – Golomb
71. Primo Hat – Mendel  Bryski
72. Paper Goods
73. Crown Drugs – Fayge Rapp
74. Feather Pillows – Tzemach Simon
75. Glasses/Sunglasses –  Rochel Yehudis Charitonow
76. Cookbooks – Levi Altein
77. Kahan's Superette – S Kirsh
78. Gutnick Seforim – Rochel W
79. Amazon Echo – Chana Serebryanski
80. The Container Store – Rivkah T
81. Story of the Parsha – Sara Wilhelm
82. KosherFamily.com – Chana G
83. Magna Tiles – Chavie Adelman
84. For Lego – E B P
85. American Girl Doll – Naava G
86. Mitzvah Kinder – Channah Fogelman
87. Paintings – Menachem Best
88. Silk Gartel – Riva Kaplinsky
89. Essel Eyeware – Rochel Yarmak
90.  The Kids Shoppe – Yossi Wiener
91. Child Cranio-Sacral Therapy – Moshe & Devorie Ringler
92. Makeup by Mushkee – Ess PSL
93. Hair for 5 by Devora Namdar – Levinson
94. Makeup for 3 by Gittel – Best Mom Ever
95. Stan's Cleaners – Kasriel Kastel
96. Cranio-Sacral Therapy – Sara Kapeluschnik
97. Carpet Cleaning – Lichvod Pesach / Yakov
98. Total RSVP Calligraphy – Jackpot 2
99. Chayenu – SEL
100. Laser Sessions – Leverton
101. Empire Press – Bentchers  S Barber
102. Sara Chana Silverstein – Lipkind
103. Vaad Printing – Miriam Grosh
104. HaSofer – Hurwitz
Admission Men – Mendel Shemtov
Admission Woman – Michal Shapiro
Photos by Esther Levertov / Nachas Photography