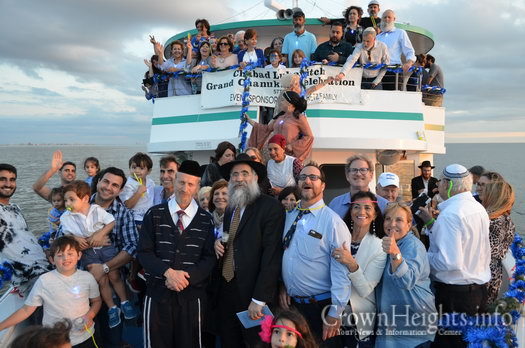 Grand Chanukah Cruise Takes to Gulf of Mexico
Chabad Lubavitch of Southwest Florida, under the leadership of Shliach Rabbi Yitzchok Minkowicz, held a Grand Chanukah Menorah Lighting on a large cruise for the Ft. Myers and surrounding region's Jewish community.
The Chanukah Cruise was a great event, with a full course dinner served, as well as a Sushi Bar, and, of course, the traditional Chanukah Latkas and Doughnuts.
There was a live band that played great lively Jewish Music, as well as activities for all to enjoy. There was a photo booth, as well as clowns and face painting for the children.
The highlight of the event was, of course, the lighting of the Grand Menorah by Local Community leaders Mikey Rubenstein, Dr Stuart Bobman, Dr Scott Schwartz, Dr. Jonathan Daitch, Baruch Almaral, Rabbi Yaakov Druk from Jerusalem & Dr James Rubenstein.
Bochrim Baruch Hecht, Eli Mann, Menachem Meltzer and Peretz Meir Simcha Minkowicz  created a real lively environment, and helped people perform the Mitzvah of Tefilin.