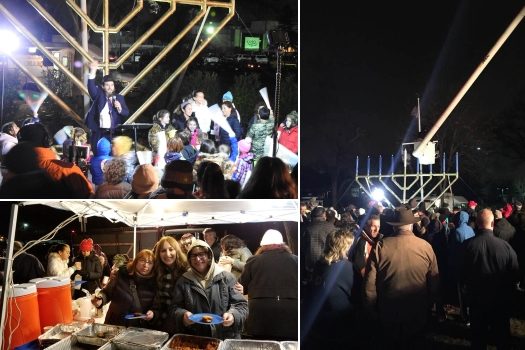 It was a cold, blustery Tuesday evening in Springfield, New Jersey, when hundreds of people gathered in Veterans Memorial Park to join together and light a giant Menorah for the first night of Chanukah.
The date was December 12, 2017 and that evening marked the 5th Annual Public Menorah Lighting arranged by the Chabad Jewish Learning Center in partnership with Congregation Israel of Springfield, NJ. Special guests included Springfield's Police and Fire Departments, First Aid Squad & the Township Committee.
Chabad Co-Directors, Rabbi Mendy & Aidella Blesofsky of the JLC thanked everyone who came and encouraged the guests to celebrate the miracle of Chanukah today by performing "Mitzvos" & good deeds for others. Mayor Diane Stampoulos said a few words and wished the crowd a happy Chanukah. The crowd went wild when Rabbi Blesofsky lit the Shamash candle and made two blessings over the candles, while ascending 20 feet above the ground. Following the lighting of the candles, the Rabbi soared over the crowd and tossed traditional Chanukah "gelt" to the children below.
Traditional Chanukah delicacies were served, much to the delight of children (& adults!) of all ages. The treats included traditional latkes and fresh donuts, chocolate coins and warm beverages. The youngest guests also had the opportunity to sing "The Dreidel Song" with other Chanukah favorites. Live music entertained the audience while everyone enjoyed the festive atmosphere.
The Rabbi thanked Springfield's Office of Emergency Management, Springfield Auxiliary Police, the Department of Public Works, Police, Fire and First Aid & Springfield Township for their involvement in making the public menorah lighting an inspiring and a memorable evening. Additional thanks went to the evening's sponsors; Jonny from 8 Minute Oil Change and Auto Repair, Jeff from Pinkava's Motor Company, Mack Retail – Camera & Video Service, and Gary & Ina Singer from Signature Realty.