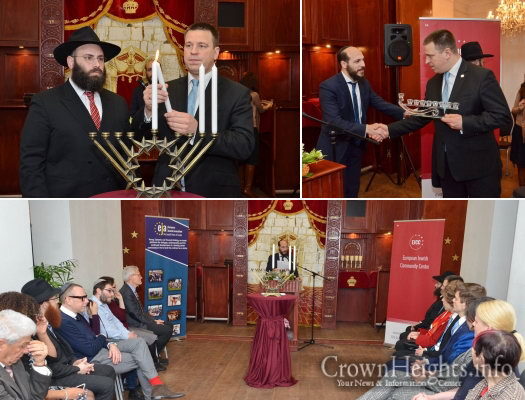 Mr. Juri Rates, Prime Minister of Estonia, who also serves as the rotating President of the European Union, visited the European Jewish Association in Brussels to light the Menorah.
The visit of the Prime Minister was an initiative of Rabbi Menachem Margolin, General Director of the European Jewish Association, and Rabbi Avi Tawil, Director of the European Jewish Community Center.
Rabbi Margolin told the Prime Minister that Chanukah teaches us that there is a Creator to the world and when we struggle with devotion to the truth, G-d performs miracles. "At this time when darkness reigns in the world, we bless you to fight for the truth, and G-d will prevail"
During his visit, the Prime Minister reiterated his commitment to continue to spread the light in all his roles.
The Prime Minister was invited to light the Shamash, and then Rabbi Michael Rosenblum, director of the European Jewish building and rabbi of the European Synagogue, and Mr. Mendel Goldstein, were invited to light the candles.