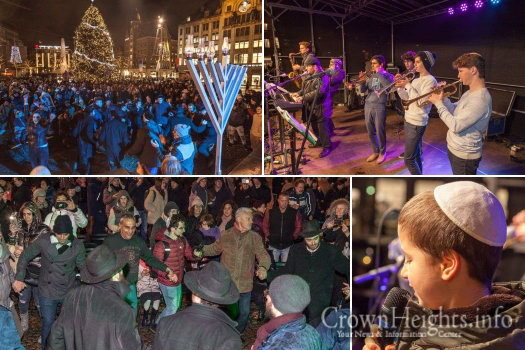 Hundreds of participants came from all over the Netherlands to unite and celebrate Chanukah on the most famous square in Holland, Dam Square, located in front of the Royal Palace in Amsterdam.
It was a beautiful and inspiring scene to see hundreds being able to show their Jewish pride, sing and dance together, and enjoy the warm Chanukah atmosphere.
The new mayor of Amsterdam, Jozias Van Aartsen, spoke about the age-old connection between the Jewish community and the city of Amsterdam, and he assured the community that the city will do all they can to assure their security and safety.
Deputy Israeli ambassador Gideon Lustig spoke some words in Dutch, wished the crowd happy Chanukah and lit the menorah.
Shliach Rabbi Menachem Evers spoke about the lesson of the lights, that even though people feel some fear now after the recent attack of the kosher restaurant in Amsterdam, we can learn from the Chanukah story, that by adding light and strengthening our faith gives us the power to overcome darkness.
Parliament member Han Ten Broeke also spoke about the attacked restaurant, where he went to show his solidarity, and that there is no excuse for using violence, and wished the crowd a happy Chanukah.
A lot of people said that this beautiful event was very special, touching and emotional, the fact that we can publicly be proud in Europe for what we are gives courage and strength.
Photos by Dirk Spits