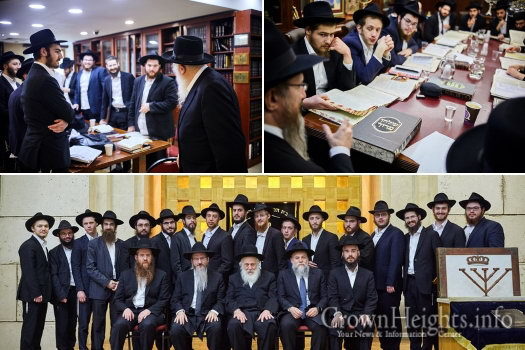 Nineteen New Rabbis Ordained in Moscow
In a moving and impressive ceremony, nineteen students received their Rabbinical Ordination after months and months of diligent study at the Moscow branch of Yeshivas Tomchei Tmimim Lubavitch, under the leadership of Rosh Yeshiva Rabbi Mendel Goldberg, and head of the Smicha program, Rabbi Dovid Rozenzweig.
After the holiday of Shavuos, Rabbi Y. Yeroslavski, of the Beis Din Rabbonei Chabad in Eretz Yisroel, and Rabbi of Nachalas Har Chabad, arrived at the Yeshiva. Rabbi Yeroslavski has ordained Rabbis all over the world, and now, together with the founder of the Yeshiva, Chief Rabbi of Russia, Rabbi Berl Lazar, spent many hours testing the bochrim. In conclusion, the outstanding bochrim received their Rabbinical ordination. In attendance was also Rabbi Alexander Boroda, President of the Federation of Jewish Communities in Russia.
These fresh, new Rabbis join the ranks of dozens of Rabbis who graduated from this smicha program and today serve as community Rabbis in dozens of cities throughout Russia. Under the auspices of the Chief Rabbinate of Russia, they deal with all matters pertaining to Jewish law, including kashrus of food production, kashrus of mikvas, ascertaining Judaism, Jewish marriage and divorce, and any other matters which may pertain to Russian Jewry.
Photos by Levi Nazarov