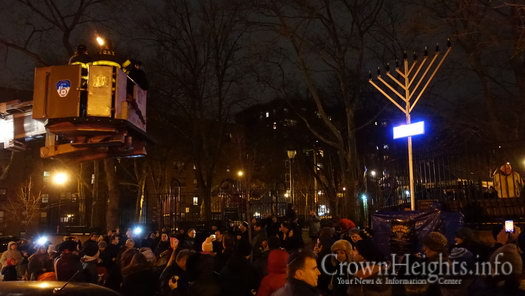 by Michael Perlman
As the eighth night of Chanukah met the final night of 2016, a multi-generational and ethnically diverse crowd of hundreds of participants made their way to Yellowstone Municipal Park in Forest Hills, Queens, ready to embrace the holiday's miracles. In addition, residents of Yellowstone Boulevard apartment buildings took advantage of an aerial view from their windows. Now in its second year, "Chanukah On The Park" featured a grand menorah lighting celebration accompanied by festivities.
The event was organized by Rabbi Mendy Hecht and Rebbetzin Chaya Hecht of Chabad of Forest Hills North, which partnered with Rabbi Mordechai Hecht of Anshe Shalom Chabad in Kew Gardens. Nightly ceremonies on a smaller scale led up to this event's success.
As participants gathered, DJ Jordan energized the crowd with upbeat renditions of traditional and modern tunes, which continued for much of the evening and included "Al Hanisim," "Ma'oz Tzur," "Ocho Kandelikas," and The Maccabeats' "Candlelight." The FDNY made a dramatic arrival, hoisting up both rabbis, who greeted and exchanged humor with attendees from an elevated platform, while emphasizing Chanukah's significance. With the assistance of firefighters, the bulbs were removed and converters were installed to accommodate canisters with oil and wicks to light the menorah with a torch, which acted as a shamash (central candle).
"How ironic it is to carry a torch on a fire truck," said Rabbi Mordechai Hecht. Then Rabbi Mendy Hecht continued, "Fire trucks unfortunately have to take out negative fires, but tonight we will do something unique that is not usually done with a fire truck. We will be lighting the Chanukah and Jewish flame of Torah, mitzvahs, faith, and the unity of the Jewish nation."
Moments prior to the lighting, he also stated, "Tonight we celebrate a single cruse of oil in a temple that miraculously was burning for eight days two thousand years ago. We celebrate the commitment and sacrifice; the light of Jewish people that has been passed from generation to generation, and it is with this light that we kindle the Chanukah menorah. Let us light up the world with our good deeds and love for one another."
Chanukah blessings were sung in unison. That was followed by a countdown to the "Chanukah gelt" coin drop from the fire truck's arm, with the words "Let's welcome 2017, a little bit early." Rabbi Mendy Hecht explained its significance. "The Rebbes of Chabad had a custom on every night of Chanukah to give out gifts of coins, but we're doing it our way with chocolate coins." Rabbi Mordechai Hecht added, "For 5,777 years, this park waited" and "This is the first time ever that a Chabad menorah lighting happened in this park with a fire truck and a coin drop."
The distribution of hundreds of jelly donuts and custard-filled chocolate donuts contributed to a sweet holiday tradition. Then the crowd enjoyed the talents of ventriloquist Yisroel Silverstein, where the story of Chanukah was portrayed in a few scenes, and an inflatable dreidel character spun around, which was one of the creative methods to help recall traditions.
Rabbi Mendy Hecht explained, "With the new 6-foot scaffold, the menorah rises to 18 feet representing "Chai," symbolizing life in Judaism. It calls for a complete healing for some people who are not well, and I feel this numeric value will surely give R' Moshe Simcha ben Rachel a complete recovery."
Chabad's good deeds often come to fruition through a team effort. On the chilly after midnight hours of December 23, Rabbi Mendy Hecht collaborated with this columnist and Chabad member Steven Davis who voluntarily erected the heavy menorah and a scaffold. "The height of the menorah made this lighting unique, and it was gratifying to see so many people attend after helping the rabbi," he said.
The menorah was sponsored last year by the Fischman family and Friends of Chabad of Forest Hills North, and this year, member Mark Weissman sponsored its new height. The event was also made possible by the FDNY including Chief James, NYPD, Parks Department, and Century 21 Department Store.  Rabbi Mendy Hecht explained, "This event was accomplished through months of planning, miracles, and the Divine, and my vision is to continue to spread light throughout Forest Hills."
Attendees expressed much gratitude. Alan Lattke explained, "I have been privileged to celebrate Chanukah in the U.S., Venezuela, and Canada. Forest Hills' celebration moves me because this community welcomed our family quickly after we moved here. Seeing people from all walks of life taking part in the festivities really warms your heart, and having NYPD and FDNY support us is priceless."
"It was a feeling of freedom to partake in the menorah lighting, and it was wonderful for the children to have this Jewish experience in their own community," said Mari Gold.
Mark Laster added, "This was an opportunity as a diverse community to publicly celebrate a rare convergence of Chanukah and New Years, and through the rabbis' efforts, we lit up the sky."