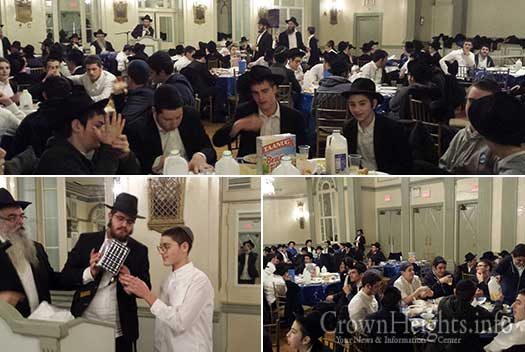 This past Monday, in honor of Chof Cheshvan, the Shluchim of Oholei Torah Mesivta organized for the Bochurim of the Mesivta to a 'Ballroom Breakfast'. Following Shacharis, the Bochurim were transported to Oholei Torah's Eastern Parkway Campus, where a special breakfast menu awaited them.
Rabbi Zushe Wilhelm – Menahel of the Mesivta – opened the event speaking about the significance of Chof Cheshvan. In between speakers, the Bochurim sang the niggunim of the Rebbe Rashab.
A special booklet about the day was printed for the occasion and distributed among the Bochurim.
The guest speaker – Rabbi Levke Kaplan – director of JLI's MyShiur and Torah Café – addressed the bochurim, regarding learning chassidus and how it is practical and accessible for every person.
The program came to a close with the launching of a Mivtza for Yud Tes Kislev, focusing on the three pillars of Torah, Avoda and Gemilas Chasodim. The Bochurim were excited to hear about this latest Mivtza, and many signed up to participate right away.
A special thank you goes to the Shluchim of Oholei Torah Mesivta for arranging the event and to Rabbi Gedaliya Hertz for coordinating and special attention to the new Mivtza.
Special thanks to R' Motel Bronchtain and the kitchen management for coordinating the breakfast.