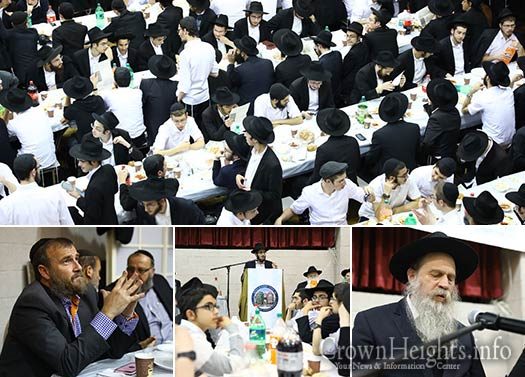 A Bruchim Haboim ceremony took place in Bais Rivka, welcoming Guests that have come for Tishrei. Tomorrow: Join in and contribute to a campaign supporting the Bochurim, through the organization that cares for them during Tishrei and year round.
Rosh Hashanah having passed, and Tishrei officially being in full swing, Bochurim, Shluchim and Anash, both guests and locals, gathered in Bais Rivka in Crown Heights eager to get the year started on the right foot.
A full festive meal was served, and giving words of inspiration was, Chairman of Agudas Chasidei Chabad Rabbi Avrohom Shemtov, Rabbi Michoel Seligson, Rabbi Chaim Shaul Brook of Vaad Hanochos B'Lahak, and Rabbi Yaacov Katan, Mashpia in Tomchei Temimim of Elad. A special video of the Rebbe was shown for the first time, thanks to Jewish Educational Media.
The event kicks off what will be a full month of programming for Bochurim and Anash, who come from far and near to be with the Rebbe for the Festive month of Tishrei.
Like years past, there will be a full line of programs, Shiurim, and Farbengens in English as well, catering to the many Bochurim who are closer to home.
The Vaad Talmidei Hatmimim, which organizes the programs and accommodations, will be running a campaign tomorrow to raise funds for their vital work, during Tishrei and Year round.
"For the Bochurim growing up today, we see that our work is as vital as ever," said Rabbi Tzvi Altein, who directs the organization. "It is thanks to the generosity of caring Chassidim all over the world that makes it all possible. We are committed to making sure each Bochur can connect to the Rebbe today just like it was before."
The campaign begins tomorrow, Thursday, 4 Tishrei – Oct. 6th at 11am EDT. For 24 hours, every donation will be matched x4, maximizing the impact of each one who partners in the campaign.
"We know how much the Rebbe cherished the Bochurim. This is our opportunity to ensure that each one fulfills their greatest potential," he added.
Details will follow as the campaign goes live.
For updates about English speaking programming taking place throughout Tishrei, text "Tishrei" to 33222