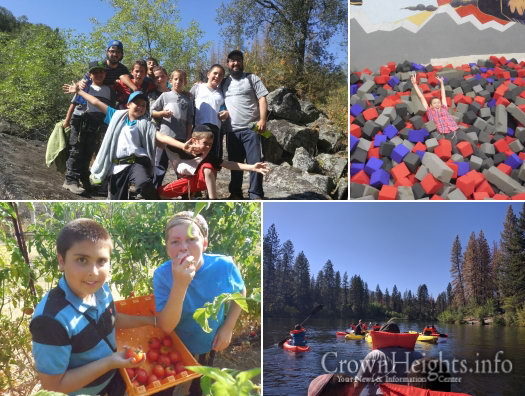 Gan Yisroel West Wraps Up Amazing Summer
Horses, Archery, Bivouacs, Arts and Crafts, Tubing and Pizza making- getting the picture?
Gan Yisroel West, which opened its doors in the summer of 2008, offers all that and more. Directed by Rabbi Shlomo Menkes and his wife Aliza, it is possibly the most unique and out-of-the-box camp experience out there. Campers get up-close and personal with nature on the beautiful ninety-two acre campus in the hills of central California.
In the beginning of the summer, the campers learned not only how to ride horses but how to care for and saddle them. Next came lake activities- kayaking, canoeing, and the campers' favorite: swinging into the lake on a tall rope swing tied to a nearby tree. Over the next few weeks, they visited a farm to pick fruits and milk goats, had a rocking Color War, bounced around an indoor trampoline park, visited Yosemite National Park for a day of hiking, and played countless rounds of paintball on camps in-house paintball field.
In learning class, the campers learned about Kibbud Av Vaeim in depth, and studied the halachos of waking up in the morning. Twice a week they tested their knowledge with Kluger games between learning classes, presided over by the head staff.
This week, the program will be coming to an end, bringing a close to a summer of learning and fun.
Photos by Dovi Paltiel