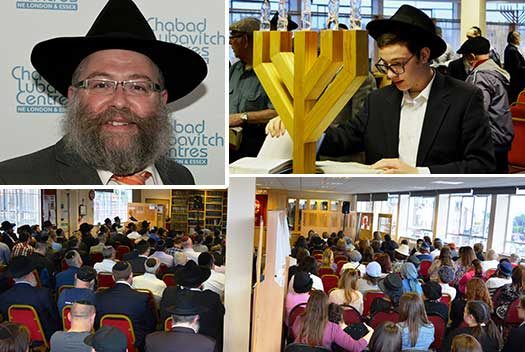 Over 200 community members gathered to mark the Shloshim – thirty days since the passing – of Rabbi Moshe Muller OBM, the beloved Shliach who suddenly passed away leaving behind a family and a community.
On Tuesday evening, 7th June, some 250 people  gathered together at the Chabad Centre in Gants Hill, Essex, to support Mrs Brocha Muller and her children at an event marking the Shloshim (30 day ) tribute to Rabbi Moshe Muller Z"L.
Words of welcome and tribute were made by Rabbi Aryeh Sufrin MBE, the Executive Director of Chabad N.E. London and Essex as well as a colleague of Rabbi Muller OBM for 21 years.
Rabbi Sufrin shared some personal insights of his experiences of his working together with Rabbi Muller daily on communal projects,many of which Rabbi Muller had sole responsibility. Rabbi Muller's sudden and tragic passing has left the Chabad Centre bereft of a trusted friend, confidant and Rabbi to so many, leaving a large void in the community.
Mendel Muller, Rabbi Muller's eldest son, completed a Siyum on the Mishna which was divided amongst friends and family across the globe and studied in his father's memory.
The guest speaker, Rabbi Nissan Dovid Dubov who is the Chabad Shliach to Wimbledon, South London, inspired the gathered crowd with a heartfelt and sensitive message in his loving and compassionate way. The gathering left attendees feeling inspired and determined to ensure that the seeds of effort planted by Rabbi Muller OBM will be continued in an ever increasing manner.
Numerous projects will be dedicated to Rabbi Muller's memory over the coming months.