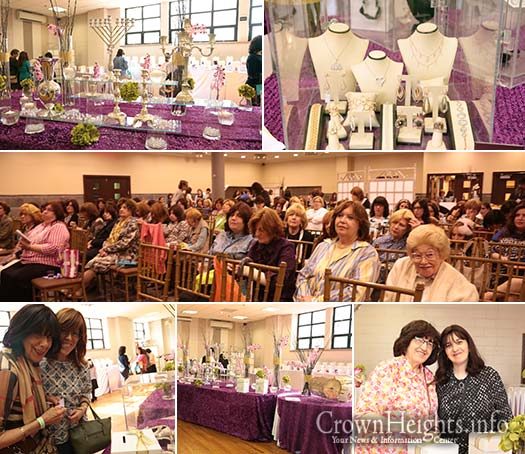 Photos by Esther Malka Levertov / Nachas Photography
Camp Fund Holds Charity Auction
The Keren Avraham Eliezer Camp Fund – in memory of Hatomim Avremi Goldman HYD – hosted a Chinese Auction in Lubavitcher Yeshiva in Crown Heights on Sunday, with hundreds in attendance. At the event the lucky winners of some 80 fabulous prizes were drawn.
The biggest winners, of course, are all the children who will now be able to enjoy the summer of their lives thanks to the financial support of the fund.
Is your name on the list?
GRAND PRIZE – HOKOHEIN
SPLIT – BRASHEVITSKY
JACKPOT – BISTON
ISRAEL – TZIPORAH OLIVER
ROCHI WIGS – CHANNY DRIZIN
KMR – MB
SILVER – RIVKY SHEMTOV
SHEVY – C RASKIN
SHAS – CHANA FRIEDMAN
TZFASMAN – SG
EUROPE – RAIZEL W
MEGILLAH – GUTLEIZER
DRIMMERS – LIBBY B
MACBOOK – PA
B&H – DORIS KATZ
GAS BILL – TZIPPY HERSHKOP
EBTB – ESTHER KRINSKY
COSTCO – YL
SHOPPING – MALKIE LEVITIN
MINK – SIMCHA COHEN
CASH – GOLDA S
BARBER – JUDAIC MOSAIC
CASH CARD – ETTI LIPSH
MENS PACKAGE – CHAIM WILSHANSKI
IPAD AIR – CHAYA S
CANON – MENDY BAM
TARGET – CHANIE
PRESTIGE EMROIDERY –
ZAPPOS – A.D.E
FLORIDA – SIMI G
MEAM LOEZ – HENNA EIDELMAN
GAP SHOPPING – BREINDY ROSENBLATT
MAAMAREI ADMUR – MALI NEW
SPORTS WATCH – YOSSI F
VISA CARD – MUSHKY PERLSTEIN
LIVING TORAH – SG
BECHER – ESTHER GROSS
MIKVAH MEIR – TAMAR
CGI MONTREAL – RIVKI SCHWEI
BBB – JUDAIC MOSIAC
TOYS R US – LIBBY B
MITZVAH KINDER – D & N KRINSKY
AMAZON – DISHA SIROTA
EMUNAH – CHANA R
BOSCH – CHAVIE BARBER
DIVINE DINING – C NAMDAR
IPAD MINI – YAFFEE
TELL ME STORY – LIRAN FAMILY
LINEN – SHIRA A
REBBE POD – YANKEL KREINMAN
VISA – G GOLDSTEIN
JUNEE, HM – ETTIE SIMPSON
ELEGANT CUTLERY – MALI NEW
CH CYCLES – Y FEIGENSON
XBOX – CHANA ESTHER SLAVIN
ART CAFÉ – CHAYA S
DVD – SHTERNA WEISS
IPOD NANO – PINCHUS LEVITIN
KOL MENACHEM – LEORA KOHAN
EYE FASHION – C ENGEL
GLIDER – 4032
BENCRAFT – YAEL BRUMMEL
VISA 180 – ESTHER FASS
TRAMPOLINE – SIMPSON
TORAH TREASURE COLLECTION – LIBBY B
MEDRASH SAYS – RIVKY SHEMTOV
MARKETPLACE – MUSHKY C
CHAYEINU – CHAYA MAJESKY
AMERICAN GIRL – ALTEIN
WELCOME HOME – LEAH LIPSZYC
MAGNATILE – PESACH ZIRKIND
TIEFENBRUN – S STEWART
SICHOS – TURK
PLAYMOBIL – SPUTZ
BOOKS – ROCHEL GURKOW
BEATS – MENDEL GOLDMAN
LIKUTTEI DIBURIM – DOVID HOCH
BEYOND BEDDING – SPEILMAN
CLICKS – CHANA GOLDSTEIN
ZARA – DOVID BRIKMAN
MINI CHOSSID – Y KARASIK
CUSTOM JUDAICA – MENDEL GOLDMAN
CROCS – NOTIK FLORIDA
UBER – MALKA EDRY
SURPRISE – FRUMA JUNIK
Photos by Esther Malka Levertov / Nachas Photography