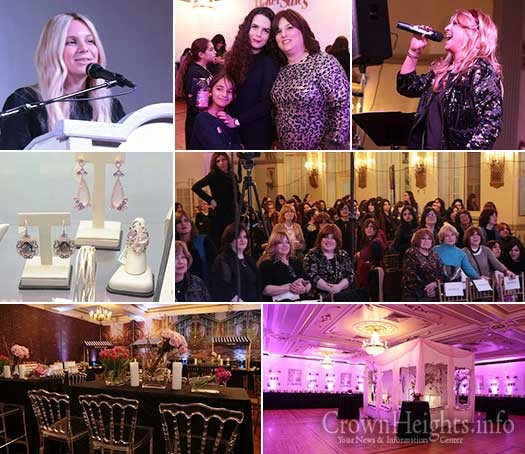 Photos by Esther Levertov / Nachas Photography
Thousands turned out over the weekend in support of Keren Simchas Chosson V'Kallah at their annual auction event in Crown Heights.
The evening opened with an auction viewing, giving attendees the opportunity to purchase tickets ad a chance to win 118 prizes that were being offered.
A lavish buffet included sushi, a meat carving station and desserts, with the room tastefully decorated in a French motif.
When the program got underway the crowd heard the inspiring story of Joyce Azria, daughter of fashion magnate Max Azria, and her inspirational journey to becoming an observant Jew.
Another evening highlight was French singing sensation Meleha, who had her own spiritual awaking after attending a Tanya Shiur, who had the crowd up and dancing throughout her performance. Before becoming observant she performed with some of Frances biggest name in music and frequently appeared on TV.
KSCVK is an organization based in Crown Heights which helps soon to be wedded Chassanim and Kallahs pay for wedding expenses.
Following the program the auction was drawn, the following is a list of all the lucky winners:
Grand Prize Chana borenstein
Jack Pot 1 G shneur
JACK POT 2 feige m
SPLIT THE POT Aharon shmuel
1. Kosherica Cruise C haller
2. On line Smicha Scholarship mandy
3. Tableware Chaya mint
4. Silver Chevy lazer
5. Furniture M p
6. Diamond Daydream Malkie brennan
7. Custom Shaitel of your Choice Batya cohen
8. Bangle Bling The best daughter
9. Shas Rothman
10. Pc or Mac Chaya tzipora
11. $2,500 Cash M g
12. Couch & Loveseat Spielman
13. Linen Z & M lipshitz
14. Naturella Shaitel Cousin
15. Mink Jewellers Sara s
16. Allegria Shaitel Tziril grossman
17. Diamond Delight Waldman
18. Laptop Bracha levertov
19. Trip to Israel Eli levertov
20. KMR Getaway Ephraim b
21. Lullaby Baby S kirsh
22. Mike's Dinette M c d
23. Crib & Dresser Malki eckhaus
24. 2 Beds & Linen Yechezkel kohn
25. $1,600 Save or Splurge Sandel
26. Children's Book Nook Meir blezinsky
27. Dazzling Jewelry Aida h
28. Megillas Esther Debbie j
29. Me'am Loez Yehudis c cohen
30. Seforim Wish List M sandhaus
31. Gold Necklaces Perel namdar
32. Best Buy or Target Beth kivman
33. Washer & Dryer Golomb
34. European Getaway Devorah leah coen
35. Florida for 2 Rivkah Seewald
36. Cameleon 3 Stroller Chaim chein
37. Personal Trainer Perel namdar
38. Glorious Silver Sari flint
39. Daybed S kirsh
40. Lowe's / Ikea Sholom berkowitz
41. $1,000 Visa Card Brikman
42. Glorious Jewelry Kaylie barber
43. Rachel Shaitel Lana bakun
44. Pomegranate Yisrael teitelbaum
45. Ipad Pro Rochel andrusier
46. Canon Rebel T61 Yanky friend
47. Smartphone Chaya wolf
48. Ipad Touch N b
49. Tickets to the Usa Tzvi pinson
50. Gas / Travel Card Yocheved Minsky
51. Snowblower Sheina Weingarten
52. Weber Grill Silberstein
53. Miele Vacuum Mendel baras
54. L'Chaim Package Tzvi Russell
55. Silverspoon Liba rapaport
56. Down Quilts Rifky shteierman
57. Linens Goldie loebenstein
58. Home Goods C cohen
59. Designer Bag Rosei Hurwitz
60. Eyeglasses A orimland
61. Glimmering Gold Zalman blizinsky
62. Kitchen Aid C rothman
63. Towel Shoppe Mendel yarmush
64. Calphalon Pots Fayga wolff
65. Children's Place / Gap Miriam hershkowitz
66. Costco T k
67. Igros or Sichos Yaakov rogatsky
68. Leather Seforim L Kaminetzky
69. Rambam in English Laivi raichik
70. Tallis and Tefillin Bags Spielman
71. Midrash Says Feldman
72. Canon G16 Camera Yakov levites
73. Amazon Fire Shterny dubov
74. GoPro Hero 4 Mousha lousha
75. Playmobile Schmukler
76. Ipad Mini 3 Chaya brand
77. Dvd Classics Benzoin Kohen
78. Spa Package F weiss
79. Manicures Dovid kutz
80. Nespresso Linda gutleizer
81. Porch Swing Leah Lipszyc
82. Deluxe Playhouse Freshman leah
83. Paper Goods E gershowitz
84. Waterford Crystal Glasses Z & M Lipshitz
85. Feather Pillows Altein
86. Michael Kors Watch Y ch
87. Primo Hat Chana
88. Teva Drugs Chana weisman
89. Kosherfamily.com M w
90. Cookbooks D Schapiro
91. Kahan's Superette Simcha nemni
92. Gutnick Seforim Levi baumgarten
93. Machanayim Books Tanya cretu
94. Story of the Parsha Chaim Rosenstein
95. 2 Ipod Nanos Israel goldshmid
96. Magna Tiles Asaf advocat
97. American Girl Doll Shaina rivkin
98. Mitzva Kinder Shusterman
99. The Container Store M s
100. Sonicare Toothbrush Levi Schneider
101. Make Up by Gittel Chanala r
102. Stan's Cleaners Chaya eckhaus
103. Cranio-Sacral Therapy Michal malka
104. Therapeutic Massage Michal malka
105. Nitty Nogginz Shoshana silver
106. Mr Clean Shmuel salomon
107. Face Painting Yosef siegel
108. Spielman Carpet Cleaning Jackpot 2 feige m
109. Chayenu Shaina shubov
110. Laser Sessions C brown
111. Facials Ester hadassa
112. Vaad Printing Rivka b f
113. Empire Press Hurwitz
114. Rsvp Calligraphy Cyo
115. Day at Lafemme S sitrin
116. Hasofer Zalmen b
117. Goodbye Clutter Chana devorah g
118. Shaitel Cut S c Brummel
Motchkin picture Mrs itta reich
Admission women Fredda Gordon
Mens Prizes:
Admission Mendel yavich
Cufflinks Kanar
Silk Gartel Rivka b f
Primo Hat M hecht
Eyeglasses Y b
Liquor Yitzchak heisler
Photos by Esther Levertov / Nachas Photography