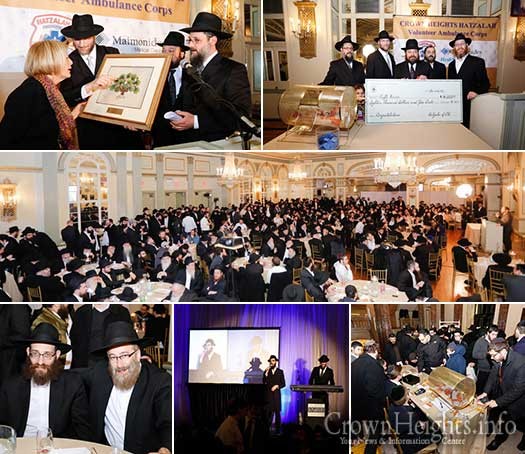 Photos by Chaim Tuito
Hatzalah Hosts Maimonides for Annual Melava Malka and Health Symposium
Hundreds of men and women turned out this Motzai Shabbos for Crown Heights Hatzalah's annual Melava Malka, health symposium and raffle for $18,000.
Opening the evening was Hatzalah coordinator Yossi Friedman who began with an appropriate Dvar Torah about the role of doctors and medicine.
Yossi was then joined by fellow coordinators J.J. Katz and Mendy Gorodetsky who together introduced Mrs. Pamela S. Brier, the president and CEO of Maimonides Medical Center. They presented her with a beautiful piece of artwork by Michoel Muchnik along with an inscription thanking her for the help she gives Hatzlah and the community of Crown Heights.
The evening featured a special guest speaker, Dr. Alexander C. Arroyo, the director of pediatric emergency medicine and ultrasound research at Maimonides. Dr. Arroyo spoke about some of the emergencies he freaquently sees with children in the emergency room and spoke about how one can avoide these emergencies. He concluded with a lively question and answer session.
The Melava Malka featured a delicious spread of dairy and parev food catered by Benny Turk of Turk Cateres, a wine bar by Yudi and Mendy Eber of Eber's Wines and Liquors and a sushi bar by Sushi Spot. Live music by Fitche Ben Shimon and a special performance by Eli Marcus rounded off the evening.
Dr. Eli Rosen was last to speak and he thanked the wives and families of the Hatzalah volunteers for lending their husbands and fathers to Hatzalahs life saving cause.
The highlight of the night was the raffle drawing for the grand prize of $18,000. The lucky winner was Z. T.. Also raffled off was a , Garmin Forerunner 920XT, won by Yirmy Katz, a $250 bottle of wine, won by Yitz Goldberg and a case of assorted wine, won by Mrs. Goldberg.
All attendees received a free iPhone or Android spare battery charger as a door prize.